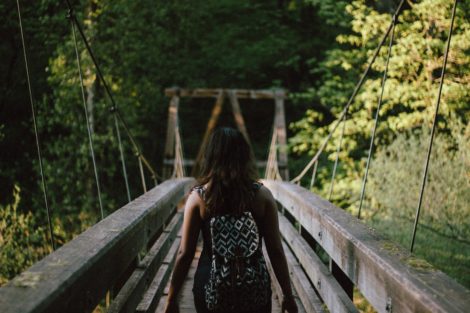 1) Meetup.com and Facebook Groups
With sites like Meetup.com and Facebook having more groups start pages every day, as a solo traveler, you can find social meetup groups in most cities. With Meetup you search for your city first, and then look at the groups available and choose by interest. You can find anything from a weekend hiker's group to a foreign film fan group who plans outings to films together. I've found a great hiking group on the Central Coast in California, a dinner group in Oxford, England, and a conversation exchange group in Valencia, Spain.  Not to mention the hundreds of groups that exist in my home region near San Francisco, California (a group for every interest!)
With Facebook, you need to play around with searches, but for me what has been easiest is to look for conversation groups in cities. Once you find one group in a city, you can ask around in the group for recommendations of other groups to join.
2) Stay in a shared Airbnb apartment
I have done this a lot since traveling solo has become more common for me. You can often find a private room and bathroom in a great apartment, but still get the dual benefits of:
1) paying much less than you would for a whole apartment and
2) having built in experts/locals to chat to (and sometimes even go for drinks or dinner with!)
Read the reviews so you get a sense for the hosts' styles. I have met some really really lovely people through Airbnb who I will definitely stay with again, recommend to others, and keep in contact with. This is the new social global society we live in! Grab hold and join the party…
3) Check out the local expat organizations' social event calendars.  
I'll confess that this is my favorite way to meet people in cities around the world. This is largely because I'm a 30 something professional who's traveling for partially professional reasons. Not just pleasure. I like to meet similarly aged people, who aren't all backpacker's or long term couch surfers, etc. (nothing wrong with these things! I'm super envious and in awe of the folks who do this it's just not my particular thing).
Expatriate social organizations like Internations (more social events) and Expatica are wonderful places to find professional adults of all ages who have either:
a) newly arrived in a city and want to meet people and get tips about their new city or
b) people who want to meet people from around the world, and converse in their home language or English.
In major cities there are events put on by a lot of different groups, happening all the time. For instance, I've attended expat networking drinks, a theater outing, a potluck, an entrepreneurs meeting in Madrid and many other social events in Prague, Barcelona, San Francisco, etc.
From tour operators and English teachers, to aerospace engineers, and Bank Presidents. You never know who you'll meet, but there is always good conversation to be had and these people can be great resources for you if you are contemplating an extended stay abroad.
4) When dining alone, Always sit at bars instead of tables in restaurants.
I don't even go to into restaurants that don't have bars if it's the busy time of day. Not only do I feel awkward sitting alone in the middle of tons of groups of people, but I also feel guilty for taking up a whole table just for one person.
Some countries don't have bars you can sit at at very many restaurants (I find this in Spain, France, and Italy) so I just wait until later in the days to go there for beverages.
When you are just another person at the bar, you don't feel so awkward and if you look friendly and smile at people and struggle to speak the local language when addressing the serving staff (even if it's just hello and thank you) people generally ask where you're from or chat you up.
5) Take your laptop to cafes and restaurants at off times
Order your coffee (or tea) be friendly, and open to chatting with the bar staff. They will almost always start a conversation when they hear your accent and see you are alone.  Working on your laptop also gives you a legitimate excuse to be there for longer, and to not feel awkward taking up a table (this is the time I recommend grabbing a small table since it's off-peak time, and often places in Spain and Italy won't have bars to sit at at all so this is the easiest time of day to take advantage of sitting in those cute small places you didn't want to go to during crazy crowded peak hours)
This is my favorite way to pass the time solo, when in a city.  There are only so many 'sights' you can see and I'm a big fan of just soaking up the local culture and gettting my writing or research done while in a nice environment. I have met tons of people this way, and been given a considerable amount of free food and alcohol, due to being the only patron in the restaurant, or to being the only foreigner from California they've seen recently (mentioning I'm from California tends to interest most people enough that they want to ask me questions about it, or tell me their stories :))