The Txakoli (or Chacolí ) Wines of Getaria and Zarautz
The most visited places in the Basque region of Spain (at least by English speakers) are cities like San Sebastian, Bilbao and Pamplona (renowned for its running of the bulls/San Fermin festival which Hemingway made so famous in English speaking countries). The most famous wines from Basque country are those from the Rioja region.
But beyond these crowded and glittering cities and popular world renowned wine regions, there are so many more treasures to be uncovered.
In December, I took a trip to the coastal area of Basque Country that's known for producing Txakoli (or Chacolí- it's spelled both ways) wines. I opted to stay within the DO (Denominacion de Origen) called Getariako Txakolina near the coastal villages of Getaria and Zarautz.
Txakoli white wines (also called txakolina wines) are light bodied, high acid wines that are naturally effervescent and normally drunk before dinner, with tapas or with seafood. They are made from the grape Hondarribi Zuri. There are Txakoli red wines, but they are far less common and make up very little of what is produced. The red wines are made from the Hondarribi Beltza grape.
Txakoli wines have always been one of my top two choices when it comes to white wines from Spain. So, when I found out that they were also produced in one of the most beautiful coastal regions in Spain I was even more excited to make the trip.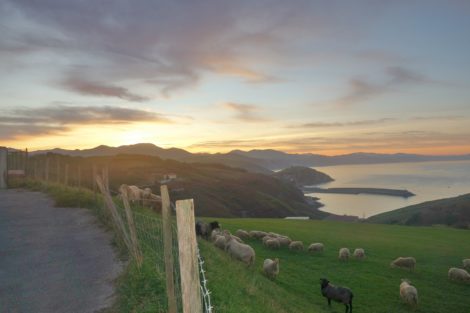 The Magic
There is a lovely feeling when you travel to these types of areas in Spain. A feeling that you are somewhere that is not so overwrought with year round tourism (at least not at the level of nearby San Sebastian) that locals are tired of seeing people. It's an area that genuinely welcomes more visitors and still holds on to many traditional ways of doing things, not for the benefit of tourists, but simply because it is their way of life.
In the ocean-side vineyards of Getaria and Zarautz, where 100 year old vines hang heavy with fruit that you can touch while gazing out at the sea……you feel you've stumbled on a type of paradise.
Footpaths that make up portions of the famed Camino de Santiago wind through vineyards that wrap around and along cliffs over which there are rolling hills dotted with sheep and deep blue waters.
You can hike from village to village on foot (and even into France!), and around each bend lies another spectacular view. Fishing ports full of white sail boats or villages framed by a skyline of orange tiled roofs…… vineyards and stretches of nothing but green and blue.
Family Owned Wineries
A visit to the Getariako Txakolina Denominacion de Origen will naturally include visiting many family owned vineyards/wineries, restaurants and hotels. I visited three family owned and operated wineries and stayed in a lovely third generation family-run hotel set amidst vineyards overlooking Getaria.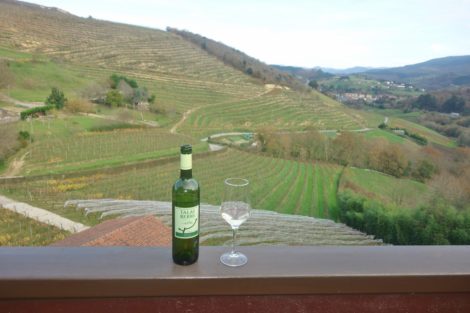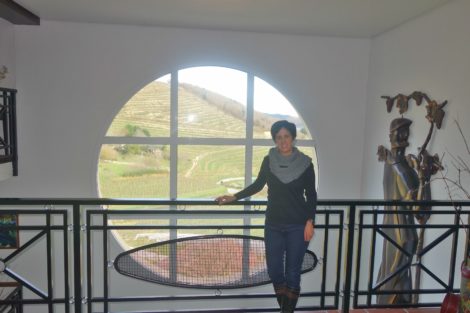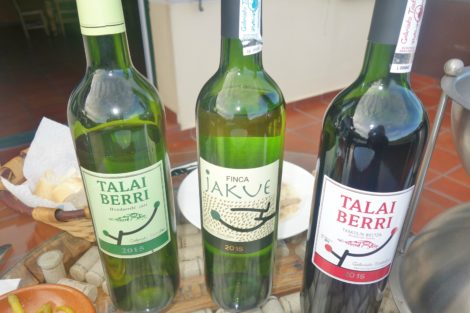 The Wineries:
Talai Berri A beautiful vineyard situated on a small parcel of land in Zarautz , this winery is run by Onditz and her sister now after coming back home to take over for their parents. They've got a fairly modern winery and have invested in making it a place where they can take visitors as well as in securing export business (which like most wineries in the area makes up a huge portion of their business). But, they are still a small operation (not the kind of place you find on TripAdvisor-though I added them there in the hopes it will lead others to the vineyard).
From the winery's balcony you can see hikers tramping along a portion of the Camino de Santiago that runs through their vineyard (though it's a less traveled portion of the Camino it's stunning!)
Talai Berri's two Txakolina white wines are stunning, with bright acidity and freshness. One, a bone dry version with a leaner body and the other with a bit more fruit forwardness and body (for export). Perfect paired with the sardines in oil or waxed peppers so commonly put out for all occasions on Basque tables.
And the hospitality of these lovely (but quiet) sisters will make you feel like you are visiting friends.
* You can email Onditz at Talai Berri to set up an appointment: info@talaiberri.com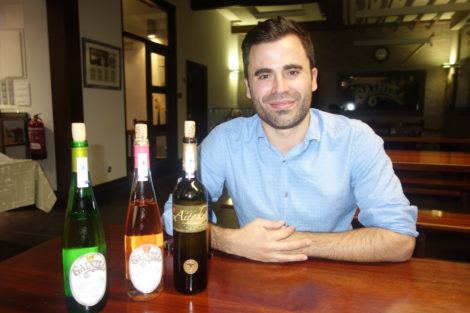 Gaintza Joseba, his brother and father run Gaintza now (he and his brother have recently come back to the winery to transition into the roles). Joseba runs the business and sales/export side while his brother and father farm the vineyards and make the wine. Their vineyards are situated very close to the town of Getaria, and in fact within walking distance of Hotel Prudentzio (my hotel) if you fancy taking a walk through vineyards and along cobbled paths (maybe 10 minutes on foot).  I highly recommend the sunset views as well as their Rosé of Hondarribi Beltza!
* You can email Joseba to set up an appointment at: info@gaintza.com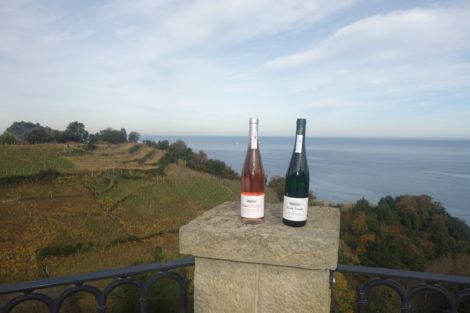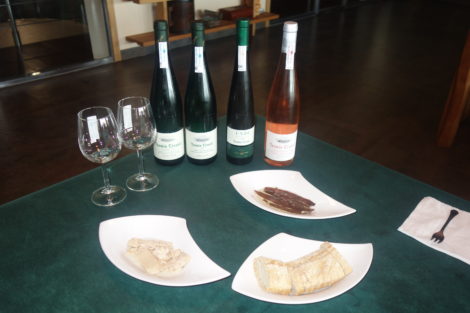 Txomin Etxaniz By far the biggest out of the three Txakoli vineyards I visited in the Zarautz-Getaria regions, Txomin Etxaniz is still very much a family run business. Run by Mikel Txueka and his brothers and sisters (who, except for the oldest all went off to University before coming back to work in the family business), Txomin Etxaniz holds 350 years of winemaking and family history.
These days they do employ a few non-family members to keep up with the demands of their increasing production (including making and bottling wine for smaller vineyard owners who don't have their own facility) but you will still feel the sense that the winery isn't just a business-it's a place that has been built generation by generation and earned its success.
You can email Mikel at: txakoli@txominetxaniz.com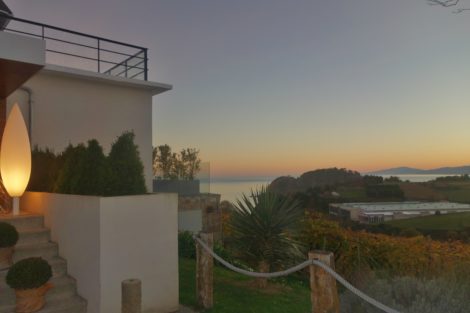 Recommended Hotel
Hotel San Prudentzio
The Hotel San Prudentzio is perched at the top of a hill, surrounded by vineyards and hiking trails just a few minutes drive (or 15 minute walk on foot through vineyards on cobbled paths) from the town of Getaria.  Vineyards and the ocean are in view at all times.
The interior is cozy yet colorful and modern. There is always a fire going if it's cool weather. And one of the sisters is always available if you need anything.
This hotel was like heaven for me. Especially after being in hectic Madrid for so many months beforehand. It put me in the middle of nature, beauty and the outdoors and made me feel as if I was staying in a B&B run by friends rather than a hotel (but with the advantages that only come with a hotel).
I highly recommend it! Please say hi to Ainhoa or Nerea for me if you end up here! Their email is: info@hotelsanprudentzio.com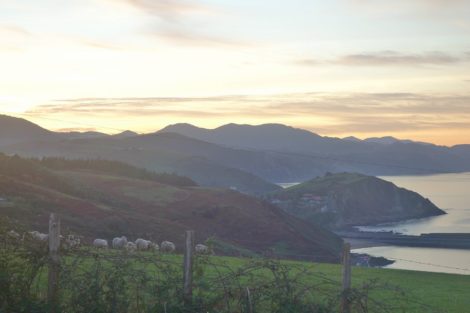 All in all, coastal Basque country is one of my top two favorite places in Spain because it has everything I love: the ocean, vineyards, beautiful hiking trails and great food. I look forward to exploring more of this region!