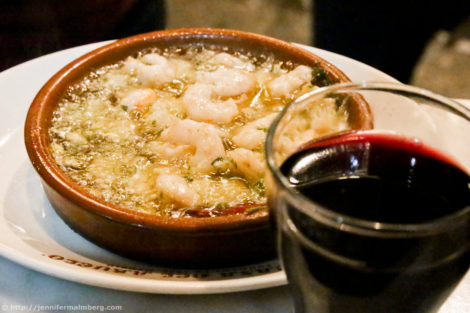 I don't often take tours.
Mainly because after a lot of years of managing hospitality and events my expectations are pretty high when it comes to customer service and tours. There's a knack to giving an interesting, entertaining and educational tour without coming off like a one man comedy show or a history teacher. There's a knack to keeping things moving at a pace that's fast (to avoid any awkward pauses or boredom) but not too fast for people to enjoy themselves. It's also important to over deliver (with food, drinks and quality) rather than to under deliver (underwhelm) or simply check the required boxes.
For me, average or 'pretty good' doesn't cut it. It takes some extra work to be excellent but I know it's not only possible, but that it simply takes putting the focus on the customer and their happiness and going the extra mile. So, because excellence was always something I aspired to and achieved in hospitality, I expect the same from my: tour guides, hotel concierges, winery hosts, servers at high end restaurants, etc.
This is the kind of hospitality that earns you glowing reviews, great word of mouth, and strong brand evangelists.
So… I was surprised (and delighted) recently when Devour Spain (or Devour Madrid as it's named in Madrid) proved to be an excellent choice for a Madrid food tour. Devour Spain leads tours (mostly food and wine focused) in a handful of different Spanish cities, but as I'm currently based in Madrid I thought it was time I checked out their Ultimate Spanish Cuisine tour here.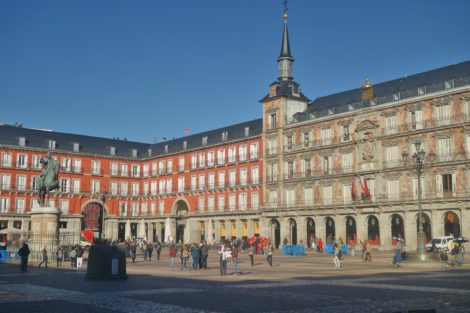 The guide (Sanne) was warm, friendly, engaging and knowledgeable. The tour, though long (4 hours) never lagged or felt boring. We moved from interesting place to interesting place (nine stops in total), eating and drinking at every stop  and getting the history behind each place and the people who run it as well as some key information about Madrid and it's food history. The amount of food served at each stop was more than just a bite, in most cases it was at least a few bites and in some cases it was an appetizer size portion.
All of the stops were good for their own reasons, but a few of my favorite stops/bites were the following:
El Riojano: This was the first stop of the day, and a great place to start (chocolate!). El Riojano (or the man from Rioja) is an over-a-century-old pastry and chocolate shop. There's a plaque on the sidewalk out in front of the shop honoring it's status as a business that has been open in the same location for more than one hundred years (though not owned by the same owners in this case). Opened in 1855, El Riojano has been passed from Employer to Employee (by purchase) for over a century.The chocolate here is sinfully rich, and it's clear that they are using high quality chocolate and preparing it from scratch. Hot chocolate is always thick in Spain (akin to hot chocolate pudding or a melted chocolate bar) but it's not always the best quality. Only the truly quality places serve this kind of hot chocolate.As a gluten-free substitute, they gave me a perfectly soft-yet-crusty hand made merinque to dip in my chocolate. The rest of the group got the more traditional Viennese finger style cookies which looked divine for dunking.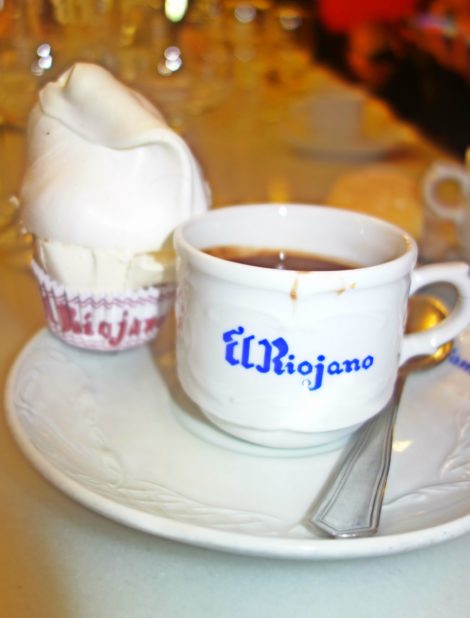 2) Mercado San Miguel: this is the most famous mercado in Madrid.  Mercados are markets that are indoors but full of independent vendors-usually they are much more casual and for real locals who come to pick up items for the week (produce, fruits, meats, cheeses, etc that are much better than the supermarket) but it is becoming more and more trendy for them to turn into hot spots for eating and drinking, not just picking up groceries. Mercado San Miguel is less like a locals mercado  and more like a trendy indoor eating and drinking space (with higher prices than regular mercados as would be expected). It's extremely popular due to it's offering being so different than typical Spanish mercados. Foodies can be in heaven here, with the more internationally inspired cuisine (even a Japanese-seafood stand), the high end atmosphere (they serve wine in proper glassware, etc) and the focus on quality and appearance.  The building, which was built back in 1916, still maintains the same classic look (though it's been completely modernized inside) so it has a polished old yet new look that makes it even more charming.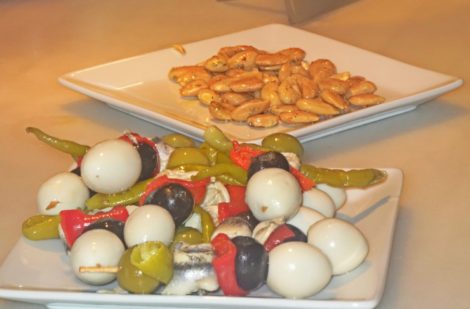 Our Devour Madrid food tour stop at San Miguel included some tasty tapas and a Vermut (vermouth) cocktail. Vermouth in Spain isn't just dry stuff you spray a breath of into a martini.  It's a custom. It comes in many different flavors and styles (though it's typically brewed with aromatic herbs and later topped off with neutral white wine)  and most often is both bitter and sweet.
Our tapas, which paired extremely well with the bitterness & sweetness in the Vermut cocktail, consisted of seasoned Marcona almonds and duck egg-pickled pepper-sardine skewers.
3) La Casa Del Abuelo: I'm not sure whether this spot made it into my top three because there was a lot of garlic…. or because I learned a cool story about Spanish food history and had a full glass of Verdejo, but I loved our stop at Casa Del Abuelo. The specialty dish here is Gambas al ajillo (Shrimp with Garlic in sizzling hot olive oil) and they do not skimp on the garlic.
Our group had a choice between sampling the sweet red wine of the house (traditional as most wines in this area were sweet back in the day) or opting for a glass of dry red or white. The family that owns Casa del Abuelo owns a handful of restaurants by the same name around Madrid and they make their own wine.
Interesting Spanish food history fact: Apparently back in the 1940's and 50's after the war, when Casa Del Abuelo decided to start making their famous garlic shrimp, they did so for economic reasons.  Wheat, and therefore flour and bread had become very expensive, so to counteract the rising costs, Casa del Abuelo decided to go out in search of something else to cook. They settled on shrimp, which at the time was the food of the poor (aka cheap) and decided to fry it up in garlic (likely because it wasn't always the freshest.. being so far from the ocean). To this day it remains a staple dish.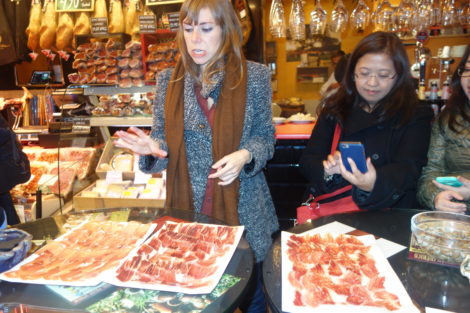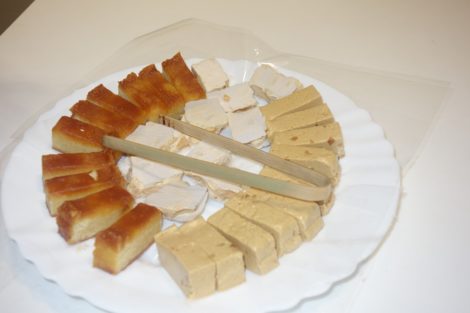 All of the stops for the day were interesting, delicious and well worth our time. In addition to these three spots we also stopped for fried calamari sandwiches (traditional Madrid street food), home made cocido madrileño (stew with lots of meats cooked all day on a stove top with lard in ceramic pitchers), Jamon Iberico, tortilla española & manchego cheese (served with sidra) and Turrones.
All in all I really liked this Madrid food tour. I learned a lot about the history of Madrid, I ate and drank well and I walked through some of the most beautiful parts of Madrid (that I often avoid because they are too crowded).
I'd highly recommend this tour if you are ever in Madrid for a day or two. I've been here been for six months and I still learned (and tasted!) so many new things.