Why Surrey?
As a not-quite-your-typical Brit (my father is British and I'm a citizen but haven't ever lived in the U.K) and a traveler who seeks out opportunities to 'live like a local' I recently leapt at the opportunity to do a week of house-sitting in the Surrey region of England with my fiancee.
I'd never been to Surrey but it sounded grand and when I did my research on Google (looking for local food, cider & wine as is my habit) I found that there were quite a few farms or farm shops nearby where I'd be staying as well as a few wineries. Challenge accepted! We decided to make it a point to do as much farm to table noshing and imbibing as possible.  
And I must say we gave it a valiant effort!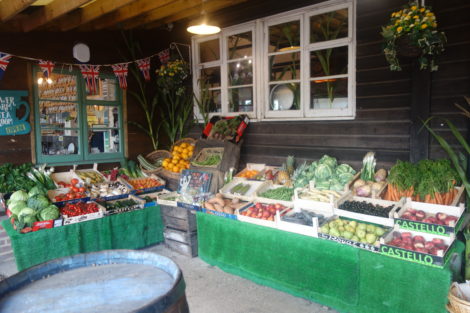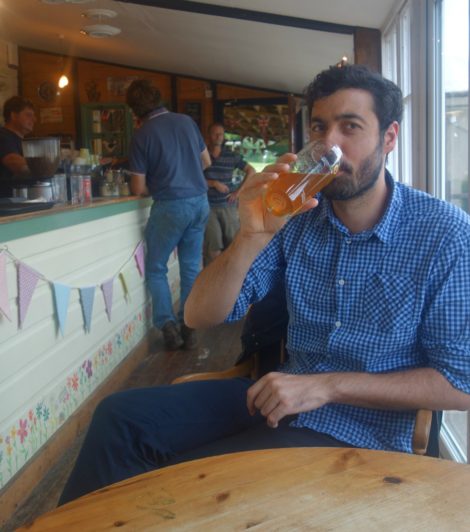 The Flower Farm Shop
Though we chose to go without a car for much of our trip, our house was fortuitously located less than a mile from a lovely farm and farm shop called the Flower Farm Shop. The Flower Farm is more than just a patch of land and a farm shop, it's a full-on fully functioning farm with lambs, cows, pigs and chickens, extensive veggie gardens, pick-your-own berry fields and a lovely Cafe serving delectable baked treats, stellar cappuccinos, farm fresh egg scrambles and (what we heard to be) an excellent cream tea.
I can now say, with some authority, that the sausages at the Flower Farm Shop are some of the finest I've ever had (particularly the Lincolnshire and Cumberland sausages-we are suckers for a sage spiced filling!). And, buying chicken or lamb straight from the farm it was (organically) raised on really does make it taste that many times better. We roasted (with herbs from the farm), broiled, sauteed and baked away for a whole week-trying something different every day-without ever needing a supermarket run.
My fiancee also couldn't get enough of the Flower Farm's sausage pies and Godstone Brewers beer (made on-site!).
Searching for a Restaurant serving local fare..
Next up though-our goal was to find a local restaurant serving up farm-to-table fare (why not? There are plenty of farms in Surrey!) for our special 'night out' over the weekend. We found one by chance, after booking a night's stay at the glammed up Sheperd Huts on Broomlands Farm in Oxted and seeing on their website that the hut owners also owned a nearby 16th century farmhouse restaurant serving primarily locally products. We made a reservation immediately.
What a good decision!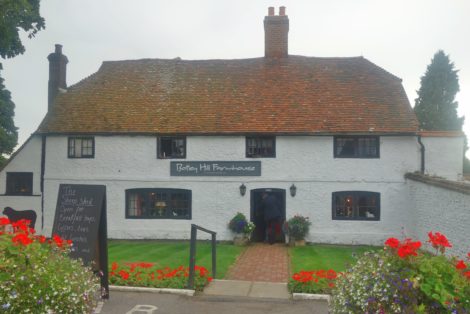 The Botley Hill Farmhouse
The Botley Hill Farmhouse was everything we had hoped for and more. Particularly for an American and a Spaniard (my fiancée), getting to visit old fashioned historic farms & pubs like this in England, is a treat. So typically 'English' (at least in our minds)!
Everything from the sweeping views of the North Downs and grazing Botley Hill sheep, to the charmingly old fashioned yet comfortable, warm and tasteful decor and unique variety of smaller and larger dining rooms was picture perfect. To top off the fantastic ambiance and views, all of the servers at Botley Hill were smiling, welcoming, fast and professional and the food was flawlessly executed as well as surprisingly reasonably priced. Manuel had the duck leg and decadently creamy, layered potatoes Dauphinoise (with a beer brewed right on -site at the farm) while I opted for a ribeye (beef from the local Estate) served with grilled mushrooms and tomatoes and a small portion of perfectly crisp and golden house fries.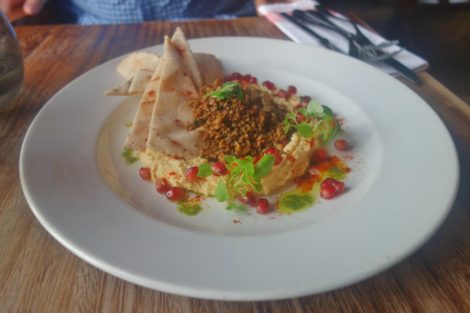 We opted for Botley's minced lamb and hummus with pita (with an option for gluten-free pita!!!!!!) as our starter. SO delicious!
These guys had me at '16th century farmhouse' and 'farm to table' but they secured my undying devotion by having a phenomenal gluten-free menu (including burgers WITH the bun!).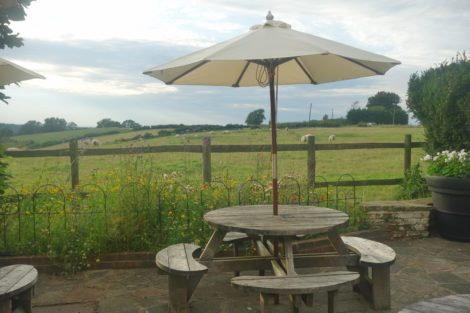 We left Botley Hill sadly after dinner, wishing we could stay all night but excited to spend some time at our little sheperd hut at Broomlands Farm Our hut, though tiny, was adorably appointed and featured an incredibly comfortable bed as well as wood burning fireplace, outdoor barbecue and fire pit and a mini-kitchen for us to make tea and coffee in. We enjoyed an evening on the farm, by our little fire, while drinking local Surrey cider we'd picked up at Priory Farm earlier in the day.
In the morning we dug into our breakfast basket (which the owners normally drop off outside your hut at a prescribed time) to find croissants, fresh gluten-free bread for toast, four eggs, marmalade, a little yogurt  and a few berries. A simple early morning breakfast before heading back to our (temporary) home to feed the kitty.
It's safe to say we put on a few kilos after enjoying so much of Surrey's bounty.  Though, to try to counteract our rapidly expanding (sausage & beer/cider) waistlines we did get out and hike or walk as much as possible.  There is a ton of National Trust land in Surrey so there's not shortage of hiking and walking trails with great views.
If we'd had more time we would have loved to do more hiking as we now know that Surrey is just as great a spot for hiking and nature as it is for farm to table food and drink!