Prepare to Get Hungry….
Truly great food tours are rare. There are plenty of meh or ok experiences and then a few that are pretty good. Either the food is good but the tour not so much or the tour (and guide) is great but the food is just o.k. or the guide is nice but the tour is not put together professionally…….. there are a lot of components involved in providing a phenomenal food tour.
I've been on a lot of different food tours in Madrid and I want to share two of the best of the best with you. The tours that knocked my socks off and way over delivered.
If you come to Madrid and you want to have a truly fantastic food related experience keep reading!
I base my definition of 'phenomenal food tours in Madrid' on a few different criteria:
Professionalism- was the communication before the tour good? Was the guide on time and did they greet everyone before launching into their speech? Did they make sure throughout the tour that everyone felt comfortable and adjust the pace as needed? Were all of the stops clearly planned out in advance and did everything work smoothly?  Were they able to accommodate allergies or special dietary needs (vegetarian, etc) without making guests feel like an inconvenience?
Entertainment factor– was the guide charming, like-able, knowledgeable and entertaining?
Learning/Interest factor– did I learn some valuable or really interesting information or experience something truly unique I couldn't have done on my own?
The food. The key to making people happy when it comes to food is choosing the places that are the best at what they do, and having a bit of variety. I may not like every food served on a food tour-but as long as they provide a few different options and choose places that offer high quality-I'm going to appreciate what I eat.
Though I'm starting this list with only two tours right now, I'll keep adding to this list as I make new discoveries that are awesome enough to list here.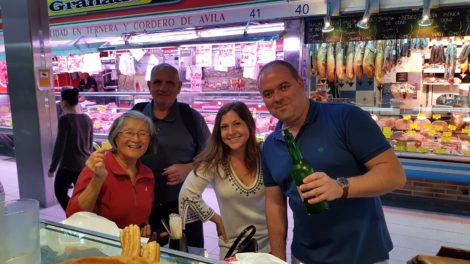 If you want to seriously experience Madrid like a local-and eat extremely well while doing so this is the tour for you!
I don't think I've ever had quite as much fun touring Mercados as with Pedro from Madrid Tapas trip. I've certainly never been able to convince the bars inside a Mercado to let me cook some of my meat or seafood or eat a bunch of my recently purchased fresh produce at their establishment. But I'm not Pedro.
As a third generation Madrileño and a serious foodie Pedro has worked his magic with the vendors, bars and cafes inside the Mercado Maravilla so he can offer literally the coolest market-to-table food tour around.
Visit one of the largest (though by no means the most popular or well known-I've been here a year and didn't know about it) and best mercados in Madrid and shop for the season's freshest produce, meats and seafood with Pedro, stopping along the way to enjoy different 'courses' with a refreshing cerveza, sidra or glass of vino.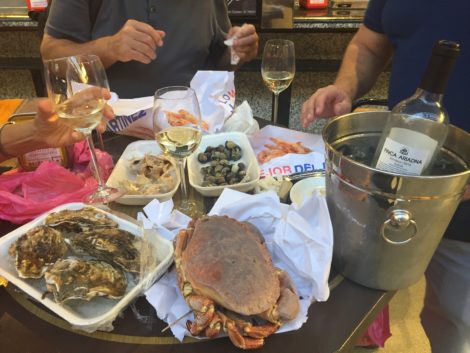 I don't think I've ever had as much and as large a variety of seafood in Madrid as I did on Pedro's tour. Crab, oysters & snails from Galicia. Prawns and tiger shrimp from down South in Andalucia. All still wriggling when we bought them but on our table an hour later having been cooked for us (after we selected the finest specimens) and put on ice.
And you won't just taste seafood on this tour-there are many carniverous joys to be had as well (including a very choice part of Iberico pig that is tough to find) as cheeses and some sort of fresh (in season) produce.
Experience what it's like to be a foodie in Madrid and shop at the mercado where some of the best chefs in Madrid come to shop for shellfish or the rare parts of the Iberico pig that aren't available everywhere.
I guarantee you won't leave hungry and you won't feel like a tourist!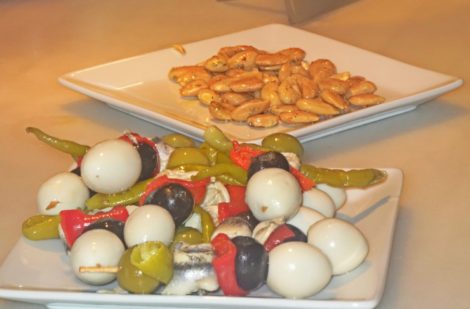 note: The night tours for pretty much all Madrid food tour companies are the most popular but this Mercado tour is  a (necessarily) daytime tour.  I highly suggest considering day tours because you will be able to experience places without such insane crowds and will have a more VIP type experience.
The guides are warm, friendly, engaging and knowledgeable. The day time food tour, though long (4 hours) never lags or feels boring. We moved from interesting place to interesting place (nine stops in total), eating and drinking at every stop  and getting the history behind each place and the people who run it as well as some key information about Madrid and its food history. The amount of food served at each stop was more than just a bite, in most cases it was at least a few bites and in some cases it was an appetizer size portion. Certainly more than you'd normally eat for lunch!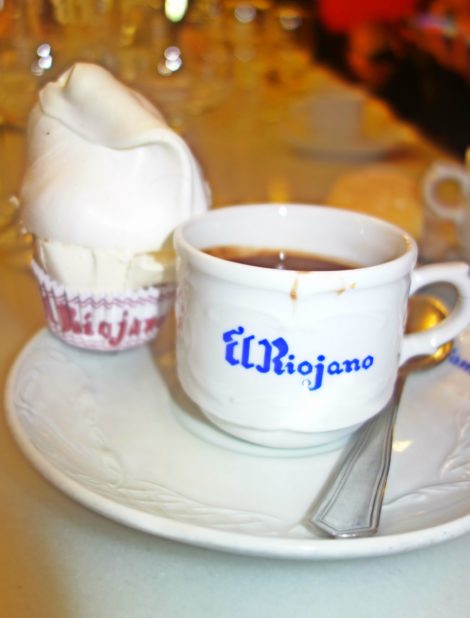 I was impressed with the professionalism and entertainment/education factors almost more than the food. I think this tour is perfect to introduce non-locals to Madrid and some really typical Spanish bites and historic places.  I learned a lot and found my new favorite hot chocolate spot….! Plus their gluten-free tweaks were fantastic and they never ever made me feel like I was on the spot-just seamlessly made sure that I had a different version of everything at every stop (5 stars for this! Very, very rare in Spain!).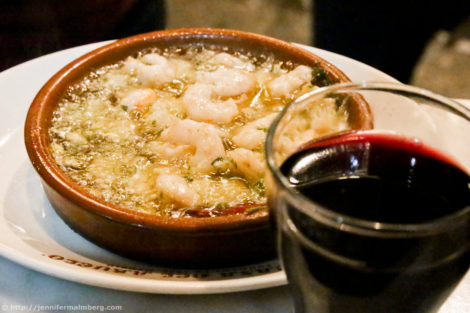 The cherry on the cake? They send you home with a little gift at the end of the tour. The true hallmark of hospitality professionals that go the extra mile to impress.
How to book tours with Devour Spain or Pedro @ Madrid Tapas Trip?
Devour's website: https://devourtours.com/
Devour offers tours in different cities around Spain so check out their other options-I have heard nothing but excellent reviews on all of them. The tour I took was the Ultimate Spanish Cuisine Tour.
Madrid Tapas Trip: http://www.madridtapastrip.com/
If you want to experience the utterly fantastic Mercado brunch tour go directly here