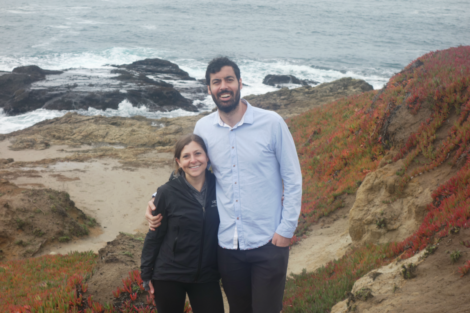 Mendocino….
The tiny, dreamy, remote California coastal town that bewitches with it's charm. Surrounded by blue and turquoise water on every side, with the hushed sound of crashing waves against cliffs and rock always in the distance.. Mendocino is a haven for getting away from it all.
It's the kind of place where phones are forgotten. Where the only thing you want to do is breathe the crisp, fresh, salinity infused air and walk for miles while you let the sound the of the ocean (and the lack of the sound of traffic) wash over you.
It's an absolutely perfect place to take someone special for a romantic getaway. Particularly, if you can find a place with ocean views, a fireplace, easy access to trails and plenty of privacy.
The best place I've stayed in Mendocino (in all my years of coming to Mendocino), by far, has to be the Mendocino Seaside Cottages.
See a little video with a walk-through of one of the cottages and the nearby coastal walks/views here:
What's so Great About the Mendocino Seaside Cottages:
If what you want is to always see the ocean (from every window and every vantage point), to be steps away from trails and beaches and yet still close enough to town to walk (down a safe and quiet road) the cottages are perfectly located. If you're also looking for romance, and luxuries like a fireplace, bathtub (jazuzzi) for two and absolutely uninterrupted privacy, the Seaside Cottages will  not disappoint.
There are ocean views from every cottage. Some cottages have little mini kitchens (a sink, microwave and mini refrigerator plus dishes, wine glasses, etc) and all have a Keurig type coffee machine and a small gift basket with little goodies in it when you arrive. You may also get a call in the evening after you've returned from dinner, and be directed to your front door, where a bottle of bubbly has been left for you.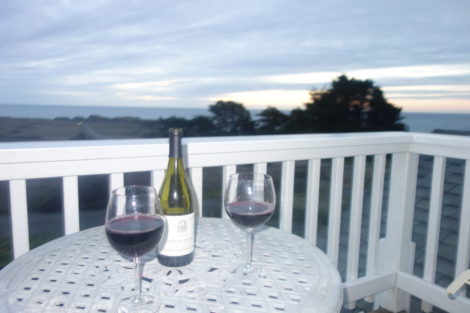 The sound you hear inside the cottages is….. absolute silence. Literally. It feels as if you have been whisked away from the outside world and placed in a beautiful, peaceful silent retreat. You don't hear other guests in rooms next to yours like you would in a hotel. But, if you open up your doors to the outside porch you may hear the ocean waves lapping softly in the distance, the seagulls or the wind.
When I travel to Mendocino, I always try to spend as much time hiking, walking and taking in the ocean views as possible-and this is really easy to do in a town surrounded by trails and water.  You've got both Russian Gulch State Park and Mendocino Headland's Park (trails you can access easily from anywhere in the center of town) in Mendocinonor you can drive just a few minutes out of Mendocino to Little River and hit the Van Damme State Park for some beautiful hiking and greenery. And there are dozens more options for hikes and beaches in the area.
Mendocino is a place that I love and would visit more often if it weren't so far away because it never fails to provide enough relaxation to carry with me back home and into the following weeks.
I can't wait to go back with my guy (wait make that I can't wait for my him to be back in the country so we can go ANYwhere together!)
************************************************************************************************************************************************************************************
*Gluten-Free Tip: Don't miss the Good Life Bakery if you want a great pastry, breakfast burrito or gluten-free treat (scones, muffins, quiche, and more!) in the morning. They even have freshly baked gluten-free buckwheat bread that they can serve on the side or sell by the loaf.
*note: I was a guest of the Mendocino Cottages on this trip, but all opinions given here are 100% my own. Because I offer time consuming services to the properties where I stay, I am careful not to commit to writing about or promoting any business I don't feel gives a truly amazing, valuable or unique experience