How It Works  
If you've never heard of international house-sitting not to worry, I'll explain it all to you here!
I didn't know about this amazing way to travel to new places and live 'like a local' by actually living in a local's home… (free of charge) either three years ago. But now that I've tried it I absolutely love it.
Basically the way it works is that there are websites now that connect those who have homes and pets and will be traveling and need someone to care for those pets while they are gone with those who are willing to come and take care of their pets and home. No money changes hands on either side-it's a mutually beneficial relationship since the pet/home-owners don't have to pay the sitter for their services (remember the old days when you had to pay someone to watch your pets or send them to a kennel?) and the sitter gets to travel somewhere new and stay for free.
Of course, you must love animals and caring for them for house-sitting to make sense unless you search for the few rare opportunities to simply care for homes with no pets.
Four Sites You Can Join
What sites exist? More than I can name at this point-but here are four sites I've used and that are well known.
note: Trustedhousesitters is the biggest (and most competitive), Nomador is really heavy on France locations, Housesitters America is, you guessed it, only for housesits in U.S.
Who does house-sitting?
Who are the people who are signing up as house-sitters on these sites and willing to look after other's pets for free?
In my experience I've found that there are a two major types of group that flock to this newly available way to connect with locals and no-cost accommodation around the world.
1) The long term budget traveler
A lot of people who do house-sitting these days are actually using full time house-sitting (meaning they have no home base or rent they are paying elsewhere) as a way to live rent free while traveling the world.
I don't fit into this category BUT, I know a lot of digital nomads and writers and retirees who are using house-sitting as a sustainable way to travel affordably long term while also getting to experience a lot of the comforts of home and obviously it's working for them since they're still doing it!
Most of these folks look to secure longer term house-sitting gigs (1 month or longer-as many months as possible in many instances) versus the shorter ones.
2) Those who simply enjoy traveling and animals and see house-sitting as an opportunity to do more travel for less money while living like a local
These travelers often include retirees, digital nomads or those who work remotely, entrepreneurs or teachers with summers off since these are the groups with the most free time and flexibility to travel. But, there are plenty of 'regular' people starting to catch-on to this opportunity as well as the phenomenon becomes more and more well known.
House-sits can range from two nights to six months-so depending on whether you are looking to house-sit locally, somewhere else in your own country or somewhere abroad you'll find different options that may suit your needs/abilities better.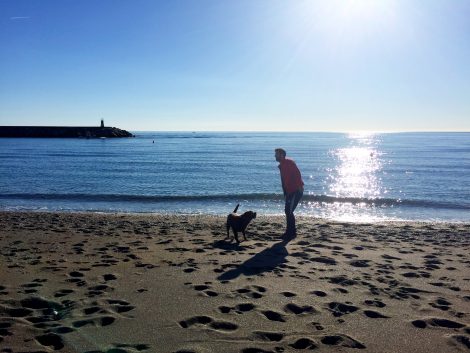 How to get started or get your first house-sitting offer
I can't tell how many times I've met people who say 'oh I tried that site but nobody answered me when I applied for house-sits so it doesn't work' or 'there aren't any sits in the exact area I want to be in on the exact dates I want to be there' or something along these lines.
These are opportunities to stay somewhere without paying not Airbnb apartments! If you are too rigid in your location/dates you will have a tougher time finding something. In addition, if you don't have any reviews on these sites you are most likely not going to be a homeowner's first choice.
But everybody has to do the first one, two or three before they get to be top on anyone's list or to choose the exact area they want to go. Just like everything else in life-NOTHING IS FREE and nothing good is easy.
If you don't have any reviews as a house-sitter it doesn't make any sense to start applying for the most desirable house-sits like a month in a penthouse apartment in London with only one small dog to care for.
First, try looking for a house-sit near your own backyard (so you automatically are less of a risk than someone coming from a different state or country who's travel plans may fall through) and for a shorter time period (shorter house-sits are harder to find house-sitters for because most of us don't want to travel to someone's town to care for their pet for free just for two or three days).
Second, look daily (and set up alerts for your location) and keep an eye out for 'last minute' listings that pop up. These people really need someone -and without much advance notice it's harder to find experienced house-sitters who already have their calendars booked up.
Third, if you are looking outside your own region, look at places that aren't the most desirable locations and also consider seasons/weather.
You are much more likely to get a house-sit in England in winter or early Spring in a not so popular tourist destination than you are to get a house-sit in Bath or London in summer.
Provide Reviews, Proof of Your Identity or Other Social Proofs to Increase Comfort of Home-owners
Finally, PROVIDE AS MUCH VERIFICATION OF YOUR IDENTITY AS POSSIBLE including social proof. It never hurts to provide additional evidence of who you are and that you exist online in a lot of different places with the same photo and have real friends and connections and a professional work history.  Even think about including things like a screen shot of your Airbnb reviews (as a guest) or things like this. Yes, the house-sitting sites collect your forms of identity when you become a member (passport, government ID etc), but it's nice to give more of a picture of who you are if you can (especially if you don't have any reviews).
Remember, these home-owners are entrusting their beloved pet and home to you! But also, on the flipside-don't forget to filter the home-owners too and make sure they seem like normal, reasonable people. There are on occasion (like everywhere else online), some extremely overly demanding people or those with really strange habits as well as those with homes that aren't clean and you wouldn't want to stay in, etc etc. This is a two-way exchange that should be equally beneficial to both parties so keep your eyes open and just try to choose home-owners that seem like people you'd want to get to know in regular life-and make sure you see pictures of their home and pets and have a real life conversation on Skype before committing to a house-sit.
I've met some lovely people (and pets!) through house-sitting.
If you are going to try house or pet-sitting for the first time in 2018-I wish you the best of luck! Feel free to message me with any questions