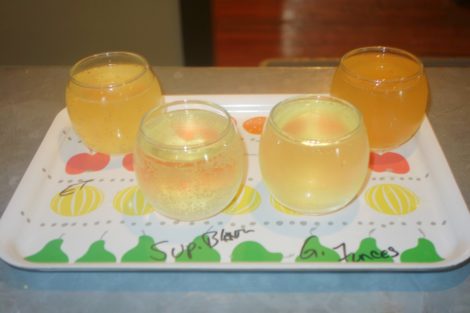 Hood River Cider Scene
I'd been wanting to drive up to Hood River for some time but had been looking for an excuse beyond just visiting the town since I would be flying solo. Turns out they've got quite the cider and wine scene!  I opted for a day of cider, since wine feels like my day job and I've been doing a lot of professional wine tasting lately.
I drove to Hood River from Mcminnville ( in the heart of Willamette Valley wine country) so the drive was over two hours each way-but what a beautiful drive-especially when you get farther North and are driving through the Columbia Gorge and next to the Columbia River (Highway 84)!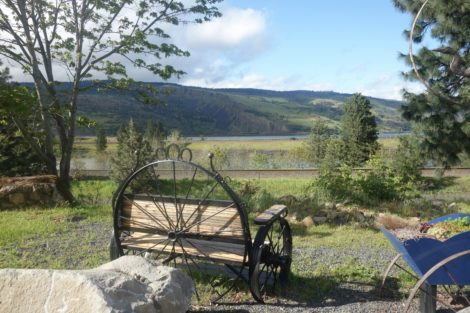 These guys make SO many types of cider-there's no way you could taste them all in one sitting! But I gave it a shot.   I think I tasted somewhere in the range of 12 ciders with Chip (one of the three partners) at Slopeswell… ! Everything from their three dry flagship ciders (that they bottle and label and have more complexity and sometimes some barrel age) to black currant, cranberry (super tart, dry and crisp!), honey fermented, and plum versions as well as stuff straight from the barrel and still cloudy. Most of these other ciders are never bottled. They keg them and pour them at their cider bar or deliver to local businesses (including businesses in nearby Portland).
The Slopeswell cider guys have a great bar downtown in Hood River where they offer ciders on tap or in the bottle, classy bites that pair well with cider (pulled pork sandwich anyone? ) and warm hospitality. If you want to take some of their draft ciders home-they can fill up a bottle for you straight from the keg (like tart and crisp? Try the cranberry!).
'How do you like them apples?!' (ok yes I'm quoting Will from Goodwill hunting). In the case of Slopeswell 'them apples' are predominantly Jonogold apples but they do have other apples in the mix.
Cider pairing tip: Try the Slopeswell Mystrale Cider with some Manchego cheese. You'll thank me! The complexity and slight yeastiness (from barrel aging) of this cider sings with an aged nutty cheese like Manchego.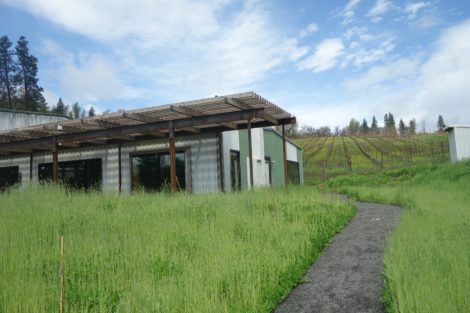 Hiyu Wine (and Cider) Farm
After years of purchasing up parcels of land on or next to this property, the owners of Hiyu now have an approx 30 acre site covered in vineyards (about 1/2 the acreage), organic gardens, housing and a big state of the art dining and winemaking/production center. They also raise animals on the property (it's a truly farm to table operation). They spent a couple of years getting this site ready for business and still aren't open 7 days a week but you can taste their wines Thursday-Monday 11-5pm in their tasting room or make an appointment to do one of their unique food and wine experiences.
There's a hippie commune/big close-knit family sort of vibe at Hiyu with the staff all working together around the farm, eating mid-day meals together (which I joined while there) and many of them living on the property or very near by.
Though the primary business focuses are on the wines and the restaurant (though it's not functioning as a restaurant yet), these guys are also making some excellent barrel aged hard ciders.  They use 100% natural fermentation processes even down to relying on native yeasts to ferment and aging ciders a bit longer in barrel so they can blend in newer vintage and facilitate natural bubbles.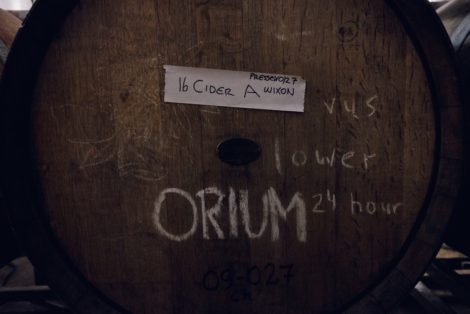 I tasted their 2015 and 2016 ciders out the barrel,  which aren't for sale yet but they'll bottle these in the next month.  Production is small (like a couple of barrels small). These ciders were a great mix of fresh and balanced (with the organic fruit shining through) with a bit more complexity and character due to the barrel aging and nice tiny soft bubbles (again the longer aging). These are dry ciders-there's no residual sugar to speak of.
How do you like them apples? yep I'm running with it. The apples in this case are heirloom dessert apples (co-fermented with quince) or Wickson apples (they make two ciders in two different styles right now).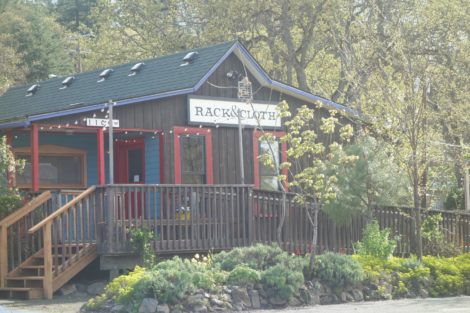 Rack and Cloth
Just five miles North of Hood River, Rack and Cloth's cider bar is beautifully set with views of the mountains and water. Inside it's quaint with rough hewn tables (made by a local off-the-grid woodworker who I met at the bar). They offer four ciders on draft and you can opt to taste a flight of all four. My favorite was their Etienne which had grapefruit-orange blossom aromas and a nice bright, freshly cut grass, lemon and grapefruit palate.
While I found their prices to be steep ($12 for a flight of 4 tasting size portions of cider) the ambiance and views were great. And even a ways from the city this little spot still has a buzz. Around  5pm you'll see the after work crowd start piling in for wood fired pizza and drinks.
How do you like them apples? My favorite cider (the Etienne) was made with mostly winesap apples. The others vary but I know they are also using some Jonogolds.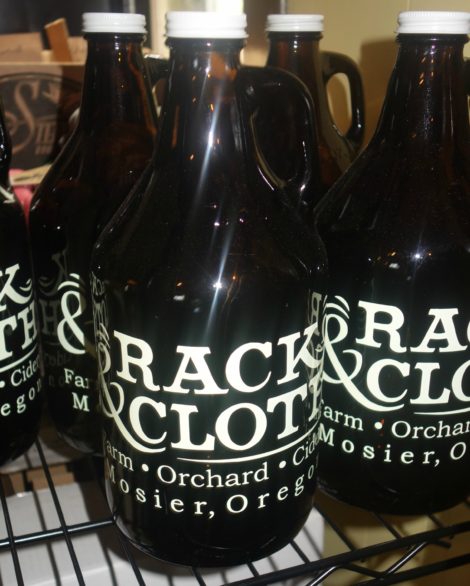 Hood River is a charming area and I wish I'd had more time to hang out and explore! The wineries and the hiking alone would be enough to keep anyone busy for weeks! Not to mention the rest of the cideries I didn't get to! It's got that awesome mix of peaceful and removed, great views of nature in every direction and yet still has a great food-wine-cider-beer scene and is only 45 minutes from the big city (Portland).
If you like these kinds of places you'll love Hood River. Why not make it a stop next time you're in Portland?