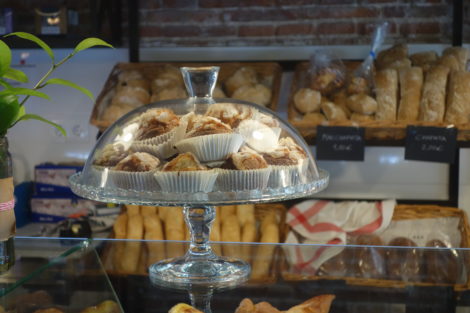 Getting Your Bearings as a Celiac or GF-er in Madrid:
When I get to any new country or city, I spend a fair amount of time seeking out gluten free bakeries or places I can get freshly baked gluten-free bread. Not the dry packaged stuff at supermarkets. And not frozen baguettes that have simply been added to the bakery menu so they can say they have 'gluten free bread' (I've been fooled by these signs before!). I mean gluten free bakeries, with real bread.
Cookies and crackers are all fine, but in reality I can live without those. I want multi-grain breads and pastas. Or, at the very least something other than just white rice flour bread out of a package, that has to be toasted to be edible.
Finding places in Spain that have fresh GF bread is much harder (in my experience) than in places like the U.K, Italy (they have so many gluten free bakeries now!), and Prague (phenomenal bakeries and outdoor markets with GF stands every week).
That said, in big cities like Madrid it is far easier than in smaller cities.
In Madrid currently there are four or five fully gluten free bakeries.  A few more places are listed as 'gluten free bakeries' when you look on google or yelp English version but they aren't bakeries and are just restaurants that have added themselves to this category to emphasize the fact that they have naturally gluten free options on their menus.
Out of the actual gluten free bakeries, only a few make real bread and non-sweet baked goods.
Below are my picks (with one sweet bakery thrown in to satisfy popular demand for cupcakes:))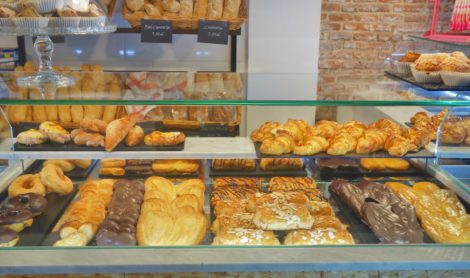 I've listed this bakery first because it is, in my opinion the best over all for selection, quality, and price point. Not only does this bakery have great multi-grain (a rarity in Spain!) gluten-free breads and pastries but their prices are very good compared to other bakeries and they have a huge assortment of savory (not just sweet!!) items (tarts, pizza, foccaccia, empanadas, etc). Also their breakfast deal is great for those of us who are used to NEVER being able to stop and just have a coffee and gluten-free pastry for less than 10 Euros. You can choose your muffin or pastry and a coffee beverage for only 3.50 (euros). I dragged my boyfriend here on quite a few Sundays just to get that 'normal' feeling of popping into a cafe or bakery on a weekend morning and munching on a fresh pastry (not biscuits out of a box!) with my coffee while reading the news.  I will miss this place!
Celioso (Calle de Hortaleza, 3)
Celioso is an uber popular gluten-free bakery and it's popularity stems from the fact that they make cupcakes and cakes and sweets (macaroons, cookies, tarts….) that are both pretty to look at, and delicious. For me, this kind of bakery is less useful than a real bakery that offers fresh breads and savory items as I can certainly live without cupcakes and cake. BUT I know many people are crazy for cake and cupcakes and will love this place.
Some people have written reviews about this bakery boasting that they have a huge assortment of gluten-free 'products and breads'. This isn't really true, except for sweets. What they do have, sometimes, is a loaf or two (though late in the day you won't find any) of super heavy white rice flour bread (that is kept chilled because it's so crumby and heavy and needs to stick together) for sale. And, they do offer sandwiches with gluten free bread which is nice. Though I don't love their bread it's a nice offering.
In short, If you are craving gluten free sweets it's a great place to stop and have a cappuccino and a piece of cake, tart or a cookie (like a gluten eating person!). Yes they have wifi.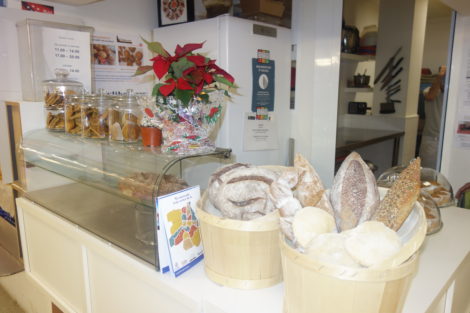 Celikatessen (Calle de Valderribas, 30)
The bread at Celikatessen is phenomenal. The ingredient and the quality are the highest I've seen anywhere in Madrid. Sergio doesn't just bake basic, dry, nutrition-less gluten free baguettes. He started the bakery because he's a celiac and didn't see any other bakeries doing whole grain or healthy high quality gluten free breads.
He bakes (and serves) up dense, nutty, healthy and delicious loaves of many kinds that are chock full of nuts, grains and organic whole grain flours. No crap. No white flour fillers (unless it's one of his desserts which he uses a combo of flours in to get the best consistency like any good GF baker does!). This bakery is a rarity in Spain. Though there is a small crowd who are starting to get into the Bio, whole grain, dairy free swing of things and it's been growing much more quickly over the past five years (as you will see referenced by the existence of 'herbolarios' or health food shops in almost every barrio) it's still not the norm to search out whole grains.
The super duper health conscious crowd, vegans and some celiacs are hip to the benefits of consuming more complex carbs than simple, and will pay a premium to get better quality products.And, at Celikatessen, pay a premium you will. They have the most expensive gluten-free bread I've bought anywhere in Europe. 12 Euros for a whole round loaf. 6 euros for a half loaf. Wowza.
However, he's literally the only guy doing this quality of GF breads (and vegan and dairy free to boot). And, to be fair, he uses far more expensive ingredients than the other bakeries on this list. His breads are dense, heavy, and filling. But not in the hard as a rock or pile of crumbs kind of way. In the perfect and satisfying kind of way.