Don't Panic-
Out of all of the countries I've traveled to in Europe, the local cuisine in the Czech Republic is one of the most challenging to manage for someone with a serious gluten allergy. Talk about a country that likes to put flour in everything!
Dumplings are everywhere! Small ones, medium ones  and big fat ones that look more like slices of textured bread. The Czechs love their dumplings. They also love sauces. And where there's sauce, there is flour.
So, how do you survive 'bez lepku' (gluten-free in Czech) in the capital of meat-covered-in-flour-thickened-sauce-and-served-with-bread?
Lucky for  all of us with this allergy-Prague is an extremely international city. There are people from all over Europe and the world living and working in this city and this has helped to promote more diversity in food offerings-especially in popular or well heeled areas. Eating in Prague is so much easier than eating elsewhere in the Czech republic!
First things first-here are a couple of thing you need to start with if you are traveling to Prague as a celiac:
Gluten Free Card (translated to Czech and printable)
'Gluten Free' in Czech = bezlepkové  or bez lepku
Now on to my tips for thriving 'bez lepku' in Prague:
1. Don't eat at traditional Czech restaurants
I know, this one is annoying because it's really fun to try out the local food, and in a lot of European countries, it's possible to get some traditional dishes without gluten (For example in Italy you can still eat risotto or polenta and so on…..).
But in Prague you will do much better if you don't enter the old-school traditional Czech restaurants. Everything has flour in it and so-honestly even if you're ordering 'just meat' and potatoes there is just too much cross-contamination for those with serious allergies. And-in these places you'll often get a very lax attitude about this 'allergy' and quite possibly get served gluten even while they assure you that what you're getting doesn't have gluten (it's happened to me 4-5 times and each time I knew by looking at the food that it was wrong and had to ask a series of questions that finally led to them saying oh yeah the chef did use flour to fry that meat or oh yeah I guess there is flour in those tiny pieces of pasta that are stuffed in that cabbage leaf, etc etc). I'm not saying this will be the case for everyone-and certainly things are getting better but in my own experience it's just better to avoid them.
That said-if you are determined to eat some traditional Czech dishes here is an option for you:
Svejk Restaurant U Karla
Address/District: Křemencova 186/7,  Prague 1
Phone: +420 222 515 889
*this is one of a chain of restaurants so not a mom and pop spot but at this particular location they have a special gluten-free menu with traditional Czech dishes
2. Shop at farmers' markets
There are at least a few specialty bio baked goods stands at almost every outdoor/farmers' market in Prague, and normally at least one or two of these have gluten-free options. Also, even for non-gluten-free and non-food allergy sufferers, farmers' markets are the way to go if you want to find good quality produce, eggs, and cheese in Prague. They are fantastic!
Click here to see a full list-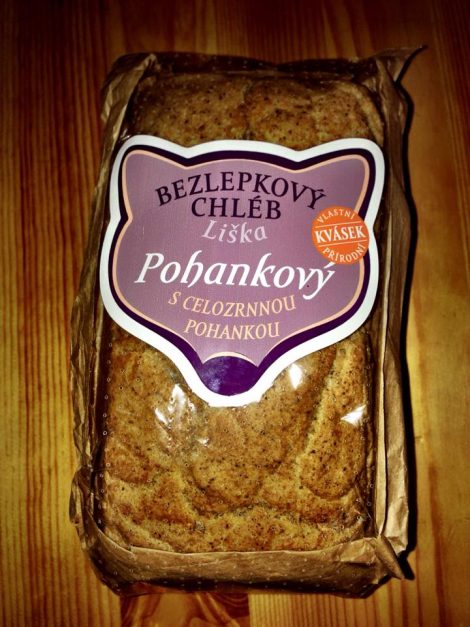 3. Find the neighborhood Bio stores & gluten-free bakeries
The Bio stores in Prague are usually your best bet for finding fresh gluten-free bread (versus packaged stuff like Schar, which is quite dry and tasteless compared to freshly baked breads), a wider variety of flours, and other goodies like unsweetened almond milk. I passed one in almost every neighborhood in Prague and almost all of them include 'bio' somewhere in the name so you should be able to google the nearest one to you.
There are also a few gluten-free bakeries or places that make their own fresh gluten-free bread. See a list of bio stores and gluten free bakeries here:
4. Find the Asian and Indian and other naturally gluten-free ethnic cuisines and any special gluten-free restaurants
As soon as I got to Prague, I researched the locations of Asian restaurants (other than Chinese, which uses a lot of soy sauce and wheat flour noodles) and other gluten-free-friendly ethnic restaurants. Usually my top choices are Vietnamese, Thai, Indian and Japanese so I look for these before other things. Luckily, I found a decent selection of Thai or Indian restaurants (though still not as good as what I get at home in California-these made me really happy) AND major score-I found a 100% gluten-free Italian restaurant specializing in risotto and home made pastas.
Here are a few to note:
 5. Find the big supermarkets
These days, there's a gluten-free section in almost every supermarket in Europe! That said, all gluten-free sections are not created equally. Many stores have just the bare minimum.
But, the big centrally located major supermarkets typically have wider selections with stuff like gluten-free cereals, tea biscuits, an assortment of pastas, and sometimes even pizza crusts.
In Prague, the big supermarkets like Albert, Billa, Lidl, Tesco and DM have large gluten free aisles including everything from gluten-free cereals, cookies and pasta to pizza crusts, flours and packaged breads. Basically all the non-nutritious, packaged gluten-free products your heart could desire (and yes they usually carry a full line of Schar products!).