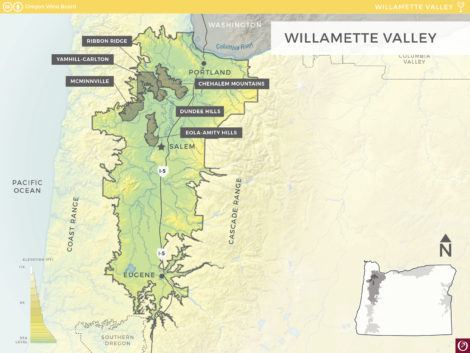 It's Bigger Than You Think
First things first. The Willamette Valley is much larger than most people realize.
It starts as far South as Eugene and extends all the way up to Portland. Just to give you an idea of how far this is, it takes 2 hours to drive from Eugene to Portland. Much Longer if you're detouring to areas of the wine country and not just taking Highway 5 the whole way directly. Which, of course you will be.
The most well known regions are in and around the towns of Mcminnville, Dundee, and Newberg in the Northern Willamette Valley.  The most popular wine country town (think Healdsburg 15 years ago but with more rain-just to give an idea) has to be Mcminnville.
That said, Dundee and Newberg each have a couple nice spots to eat, and a cute (if extremely small)  'strip' of businesses (mostly tasting rooms mixed with a restaurant or two, a high end market and a cafe, antique shops, etc).
There's also the cute up and coming (not that it's a new town but it's built up a posher and newer little downtown area recently) wine town of Carlton  about 15 minutes North of Mcminnville and about the same distance East of Dundee.
The Growing Regions of the Willamette Valley 
When trying to plan a trip to different wineries-it's helpful to plan both around the towns you will be in or near as well as the growing regions that you are most interested in. Or better still, to plan where you stay around what regions you want to visit. You may not know until you get here which regions have wines that are more to your tastes, or that you'll enjoy the most. And, you may love them all equally!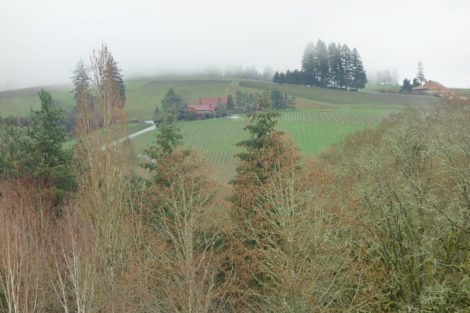 Still it's a much better idea to choose one area and stick around there for the day than trying to get everywhere in one day. If you're gonna come here and do the Valley-give it a few days. There is so much to do, see, drink and eat!
The AVA's (American Viticultural Areas aka growing regions or sub-appellations) of Willamette Valley
The Willamette Valley AVA
This is the mother of all AVA's encompassing the entire Willamette Valley. All other Willamette Valley AVA's fall within this AVA.
The Willamette Valley stretches from Eugene in the South all the way up to Portland in the North and is almost 5,400 square miles.
Chehalem Mountains
This growing region is Southwest of Portland in the Northern Willamette Valley (see map above)
Distinctive features of the region: the highest point in the Willamette Valley is Chehalem Mountain's Bald Peak in this region
Big name wineries in this region: Bergstrom and Adelsheim
For more information on this region click here
Dundee Hills
This region lies 30 miles southwest of Portland and only 40 miles East of the ocean. The town of Dundee is a great jumping off point for visiting this region's wineries though you are also quite close as well if you choose to stay in Mcminnville (15 minutes Southeast) or Newberg (10 minutes North).
Interesting facts: the first grapes in the Willamette Valley were planted in the Dundee Hills. It is also the most densely planted region in the Willamette Valley (though it's 1/5 the size of the Chehalem AVA both regions have a similar acreage of planted vineyards)
Big name wineries in this region: Lange Estate, Erath, Domaine Drouhin,  Domaine Serene
For more information this region click here
Eola-Amity Hills
The areas South of Mcminnville get less attention (in the wine world) but there are many great wineries dotting the map between Salem (1 hour South) and Mcminnville and, even a few South of Salem that are still Willamette Valley. Most of these lie within the Eola-Amity Hills AVA.
Big name wineries in this region: Cristom
For more information on this region click here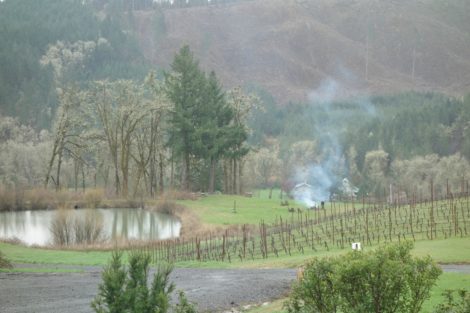 Mcminnville:
40 miles southwest of Portland, the Mcminnville AVA bears the name of the nearby town of Mcminnville
Interesting facts: this region gets more sun and less rain and has more higher elevation vineyards that neighboring AVA's and is where Oregon Pinot Noir pioneer, David Lett first started his winery (Eyrie Vineyards).
Key Piece of Wine Industry History : Mcminnville hosted the first International Pinot Noir Celebration (or IPNC) event in 1987.  IPNC is now a world renowned wine event that attracts winemakers, sommeliers and wine professionals as well as consumers from all over the world.
For more info on this region click here
Ribbon Ridge:
Located off the northwest end of the Chehalem Mountains and within the larger Chehalem Mountains AVA this AVA is distinguished by unique ocean sedimentary soils and a geography that is protected by the larger landmasses surrounding it.
For more Info on this region click here
Yamhill-Carlton:
North of McMinnville, this AVA sits in the foothills of the Coast Range and is one of the largest AVA's, centered around the towns of Carlton and Yamhill.  Yamhill River runs through this AVA and the region sits protected from the rain, by the Coast Range as well as the Chehalem Mountains to the north and the Dundee Hills to the East.
Big name wineries in this region: Penner-Ash, Beaux-Frères
For more info on this region click here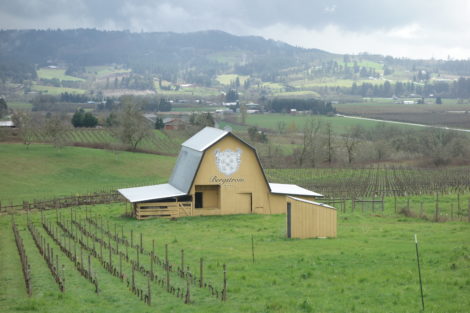 Know Before You Go
The Northern Willamette Valley gets all of the attention (pretty much North of Salem) but there are vineyards South of Salem and even as far down as Eugene. Not least worthy of mention is the expansive King Estate Winery just 15 minutes outside Eugene which is the largest bio-dynamic winery in not just Oregon but the United States!
If you want to visit 'the Willamette Valley' you'll need to get more specific. Where in the Willamette Valley do you want to go? South or North? Are you starting from Portland or are you driving from the South (or maybe even all the way from California? Road Trip!) from Salem or Eugene? How much time do you have? And… what are you most interested in doing?
There is so much to do here. And that goes beyond just wine tasting and vineyards. From small farms where you can tour, taste (cheese, nuts, fruits, honeys….) and buy directly from the producers to craft cider and beer breweries and hiking. There is something for everyone who enjoys the good life (good food, good drink and beautiful surroundings). So when you've spent enough time tasting wine, why not take advantage of some of the other experiences Willamette Valley has to offer?
Resources for Your Visit
These are my favorite resources for planning travel, finding off the beaten path spots and accommodation, and learning about the wine regions of the Willamette Valley.
Willamette Valley Wineries Association:
Great for information on wineries, region wide events, wine country accommodation, region maps, and more
Travel Oregon Great for planning a trip for any reason, anywhere in Oregon. From firsthand depictions of stays at B&Bs and tours at local farms to 24 and 48 hour itinerary suggestions and listings of all local tours and destinations this site has it all, plus a quirky endearing style that will make you feel like you're getting the info from a friend or very cool traveler first-hand.
Get your wine geek on. Find breakdowns on the AVA's of the Willamette Valley, lots of maps, news on the industry and more.
If you're in the wine trade go straight to this link