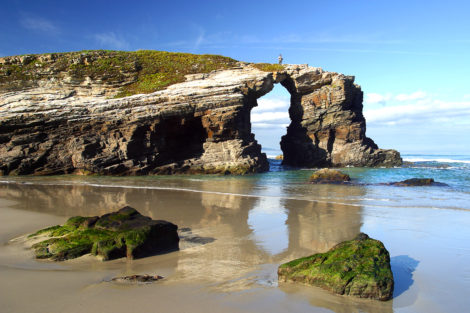 Northern Spain: Galicia
I recently spent a couple of weeks (separately) in the Galicia region of Spain. This is a region that has been calling to me for some time. Ever since hearing it described by a young woman I was tutoring in an English immersion program in Spain, who was from the area. She described it as a green, wet area with beautiful coastal views, excellent locally produced white wines, and tons of fresh seafood (the region's specialty is pulpo or octopus, grilled and served warm on a wooden platter with paprika).
I am a sucker for all wet, green areas that serve up great seafood and are on the coast.  I've always been a fan of Northern Coasts vs. Southern Coasts. A hike along a windy green grassed cliff above crashing waves and the smell of salt and seafood in the air is my idea of heaven. Throw in a thriving local white wine industry (Rias Baixas region is spectacular for Albariño) and I'm already packing my bags.
Having been in the wine industry for 14 years, I'd drunk my share of Rias Baixas (pronounced Ree-ass Buyshass) Albariños. But I'd never thought about where the region was in relation to the rest of Spain. And how hard it might be to get to from the rest of Spain.
Google doesn't populate results that include Galicia unless you are specifically looking for Galicia (or one of the cities within it) so even during my research on regions of Spain to visit it hadn't really come up. If you aren't already looking to visit a place in Galicia or to do the Camino de Santiago it likely won't come up on your radar.
And this is just what makes this region so magical and such a rarity in 2017.
Galicia is not a hugely touristy region
At least not for Americans or the rest of the world beyond Spain and Portugal and the few random Brits that make their way over (having presumably figured out it's the only coastal area in which they won't fry in too much sun and where everything costs 1/4 what it does in the U.K).
The exception to Galicia's non-status as a must-visit region is, of course, the Camino de Santiago, the famous pilgrimage route that has enjoyed a huge surge in popularity over the past 30 years and sees 10s of thousands of tourists/pilgrims per year. The pilgrimage ends (as it did originally when religious pilgrims sought out to visit the remains of St. James that were rumored to have been buried there) in Santiago de Compostela in Galicia.
This keeps Santiago de Compostela on the map as a major destination (if one is already looking to do the Camino…) and thereby also some neighboring areas through which the Camino runs. But if you veer away from the Camino spots (and those are mainly only crowded in the summer) you'll find a whole different side to Spain. One without the polish of more heavily touristed areas.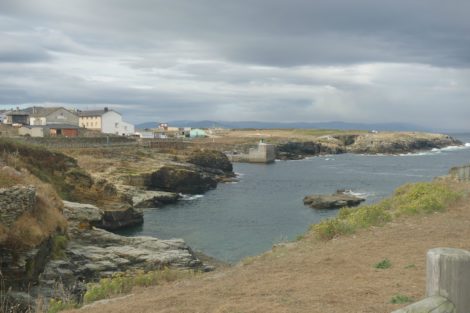 A New Type of Spanish Experience
During my recent trip to Sanxenxo and Rias Baixas vineyards, Ribadeo, Rinlo, Cathedral Beach and the Ribeira Sacra areas of Galicia I had an entirely new type of 'Spanish' experience. Not only were the lack of crowds, lack of easy-to-find accommodation and lack of functioning GPS (particularly in Ribeira Sacra) a big change but the fact that I was surrounded by an entirely different language most of the time (unless I was being served-because they could see I wasn't Galician so they'd speak Spanish) made it feel as if I was in a tiny country of it's own.
The Gallego (Galician) language is very similar to Portugese and of course being located so near to the country there are other similarities between the cultures as well. You'll also see more Portuguese tourists in Galicia than any other nationality. Though everyone in Galicia speaks Spanish as well (except a few very old people who have never left Galicia, didn't go to school, and only hear Spanish on television).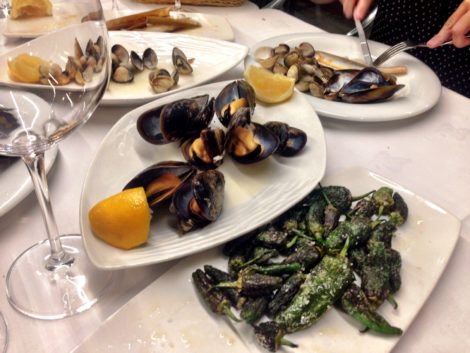 Galician Style
I really like the Galician culture and diet as it's far more my speed than the more popular and well known areas of Spain. Gallegos move a little slower, have a simpler life (and simpler means less technologically advanced very often as well as less commercially focused due to primarily geographic and economic factors) and eat lots of seafood. They also drink more white wine than any other Spaniards I've met.
In Galicia more than 90% of wines produced are white. And therefore, the people drink white wine. It's the norm. This doesn't mean they don't also drink a lot of beer though. It's still the bevvie of choice for most men in Galicia (my bf included) and of course, Estrella Galicia, one of Spain's most popular and largest names in beer, is made in Galicia.
But I'm getting off track….
My first stop in Galicia was a place in Southern Galicia called Sanxenxo. I'll continue this post in Part 2, as it's getting a bit long.