The Seafood in Galicia is Amazing!

Galicia lies, in large part along the coast and therefore seafood is king in this region.
You won't find a restaurant that doesn't have seafood on the menu and you'll be delighted at the freshness (it comes right out of the sea a few kilometers from wherever you are eating it!) and the wide variety.
From navajas (razor clams) and mejillones (mussels) to pulpo (octopus) and soupy paella-like seafood rice specialties you will find plenty to satisfy your fruits-of-the-sea cravings.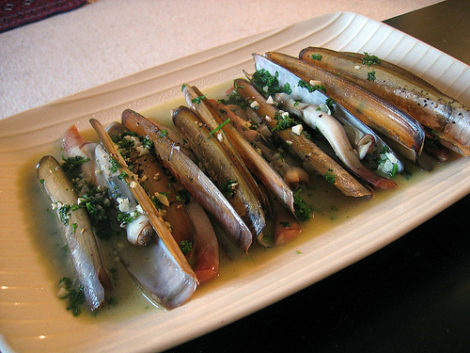 Some of the most common seafood dishes in Galicia are:
Pulpo: THE dish of Galicia! I have never been anywhere in Galicia that did not have pulpo! There are two main ways pulpo is served. 'A Feira' or 'a la plancha'. 'A Feira' is the most common way Galicians serve it. The pulp is steamed and served on a round wooden platter with boiled potatoes and seasoned with paprika.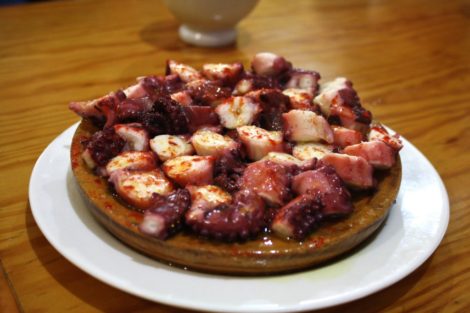 Mejillones al vapor: Mussels. Cooked without sauce or water, in a pot, they steam in their own vapor. Galicians don't need fancy dressings or broths for their steamed mussels they serve them simply with fresh lemon on the side.
Navajas: Razor clams abound in Galicia, particularly southern Galicia and my God are they good! They steam them and dress them with a little oil and voila! A melt in your mouth slightly sweet, delicate clam that will change the way you think about clams if you've never had this variety(we don't get these in California!)
Vieiras: Sea scallops served in the shell. The Vieira shell or 'concha' is also a major symbol in Galicia and the most popular way to prepare Vieiras in Galicia is with a bread crumb topping.
Arroz con bogavante: A stew of rice cooked with lobster (sort of like a paella with seafood but a bit soupier and most often cooked and served with the whole lobster still inside). Little seaside towns such as Rinlo (near Ribadeo in the Lugo province of Galicia) are particularly known for specializing in this dish. Normally, if you want the good stuff you have to make a reservation ahead of time so the restaurant can make sure to buy enough lobsters, and also because the dish takes so long to cook.
For more about Galicia (maybe my favorite region in Spain) check out these posts:
Galicia: Remote Northern Region of Spain
A Galician Culture Lesson in 8 Words
Visiting the Northern Coast and Cathedral Beach in Galicia