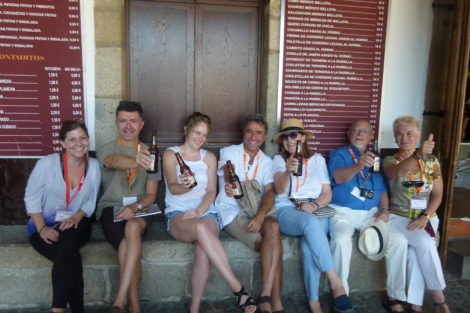 Where to Start
When trying to decide which Spanish language program in Spain is right for you, it's important to consider what type of learner you are, what you want to get out of the program (other than language), how much personal space or social interaction you want, how much time you have and your budget.
Most people who come to Spain choose a program with a larger company that has lots of choices of locations and offers courses in a classroom setting as well as either accommodation with a host family, accommodation in an apartment (private or with other students) or accommodation in a hotel.
The hours of classes per week generally range between 15-25 and you pay more or less depending on which package you choose. Most programs also offer cultural excursions (that you may or may not have to pay extra for) during the week. Almost all programs offer the opportunity to do private lessons for higher fees.
Prices range greatly but you can take one of these courses for as little as 250 Euros/week including accommodation or as much as 1000 Euros/week for a more luxurious option. Prices get better the longer the program so if you have the time to come and study for a month it's really the best option to get the most for your money as well as to really experience 'living' temporarily in Spain.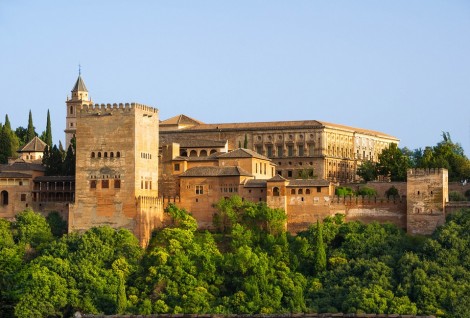 I opted for a one-week budget option in Granada with Don Quixote language school when I first arrived in Spain. They have programs in most major cities but I had really wanted to visit Granada so I chose to do my course there.  I paid only 250 Euros for a week of classes (15 hours) and a very simple room with private bathroom in a pensione style place that had a kitchen guests could use to cook meals. It wasn't luxury but it was clean and well located and I couldn't beat the price!
There were options to choose 4 Star hotel accommodation as well and if I'd been on vacation I would have probably opted for that or rented a nice Airbnb apartment but I wasn't so for me the budget accommodation was a big selling point.
That said, the cheaper option is usually not the highest quality option and that was true for me with this program-I didn't find the same quality of instruction I did in other courses I took later on in smaller schools. Though I still thoroughly enjoyed being in Granada, and the price I paid was so small I wasn't all that disappointed.
This is really common with the types of courses that larger language schools offer. Most let people start during any point in the month even though it doesn't make for the best learning environment. Their objective is booking the max allowed number of students per class because that makes them the most money, not making sure you get the best education.
Just keep this in mind.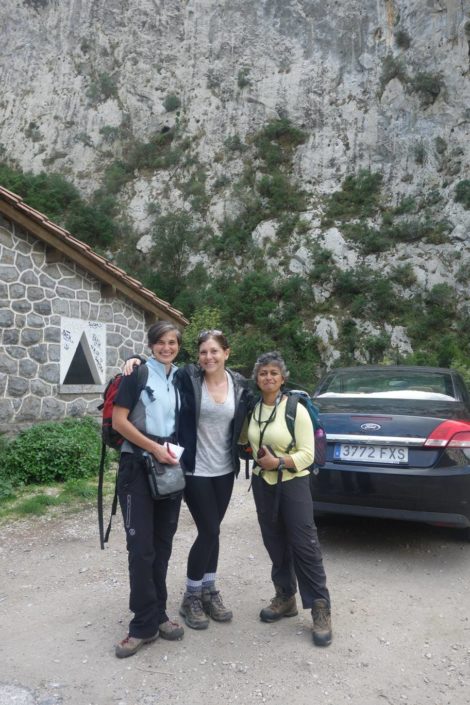 What about combining fun activities with a Spanish course? 
There are so many ways to study Spanish in Spain-and many take you beyond the classroom and the book and into kitchens, vineyards or onto hiking trails….. If there is something you enjoy-there is the possibility of combining that activity with a Spanish course. Some of the most popular and/or common offerings are:
–Wine (vineyard tours) and Spanish
I opted for a hiking-yoga-Spanish option with a small local-owned school in the Picos de Europa of Spain when I was looking for more of a Spanish/vacation kind of experience this past October. I had a fantastic time and would highly recommend it! The prices were very reasonable as well-about 400 Euros/Week including 20 hours/week of classes and 4 hours of guided hikes or yoga/pilates in the afternoon.
Total Immersion and Intensive Short Term Courses
There are more and more programs designed for the busy professional who needs to learn as much as possible in as short a time as possible, or who just has a limited amount of vacation.
These courses tend to pack way more hours of learning in as well as a LOT of conversation versus just book learning and to be geared towards people who already have some Spanish but need to improve it or get to the next level for professional purposes or because they are moving  to a Spanish speaking country. Due to their immersive nature (and often higher quality instruction, accommodation, etc) they tend to be more expensive.
Not all immersion courses are created equally so read between the lines and ask a lot of questions to figure out just how immersive a program is before signing up to make sure you're getting the kind of immersion you want. You want to be forced to speak the language as much as possible and stretch your vocabulary/grammar muscles-not just be given free afternoons to wander and 'practice' your Spanish with strangers (which isn't as easy or effective as it sounds).
Here's a look at an excellent 8 day Intensive Immersion program that I took in Northern Spain.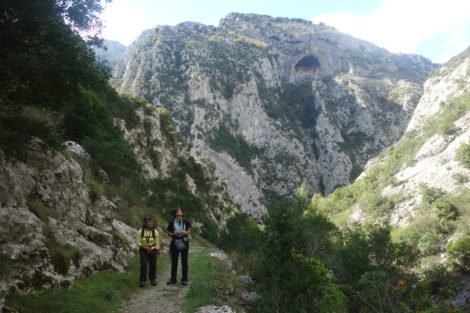 I opted for this course when I needed to seriously increase my Spanish fluency and comprehension-and fast! I was already living in Spain but wasn't progressing much due to working from home (100% in English) and then only having simple conversations (using only the vocabulary I was comfortable with) when I went out.
I left this 8 day course with a noticeably higher level and larger vocabulary thanks to having spent 12 hours a day (from morning until night including the three long meals) speaking nothing but Spanish (no English allowed)-even when I was exhausted and it felt impossible. The amount that I retained from day to day was so much higher than in any other language course I've taken-because the 'class' never really ended.
I'd still be speaking Spanish with the volunteers at 11pm at night (over a gin and tonic or glass of wine of course) and after that would be too exhausted to go and do something counteractive like watch news or a show in English. This is all part of Pueblo Español's diabolical plan.
This program isn't cheap (around $2000) but it's in the normal (or low) range considering what it offers: 7 nights 4 star hotel accommodation, three meals a day and 1 to 1 ration of students to native Spanish speakers, transport from Madrid to course site ( a small historic village) and then back to Madrid and a couple of cultural excursions).
Something to note: This is not a program for total beginners. Low-Intermediate to Intermediate-Advanced levels will benefit most from this type of program.
Finally-and perhaps most importantly….Where do you want to go?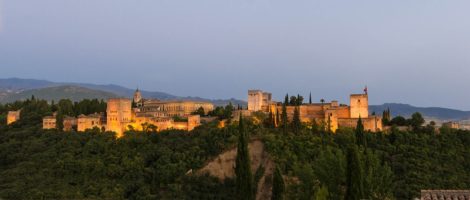 There are options in every region of Spain, in big or small cities, in rural villages or near the coast… What type of area do you want to visit most? And what type of environment do you learn best in?
Do you want to be near the beach and gets lots of sun? Or do you prefer mountains and trees and green? Northern and Southern Spain offer very different climate/culture/food/weather.
Next, do you want to be in an Urban city or historic village? Or perhaps a small city? For example Granada in the South and Santiago de Compostela way up North in Galicia are two of my favorite small cities in Spain. But I also love small pueblos!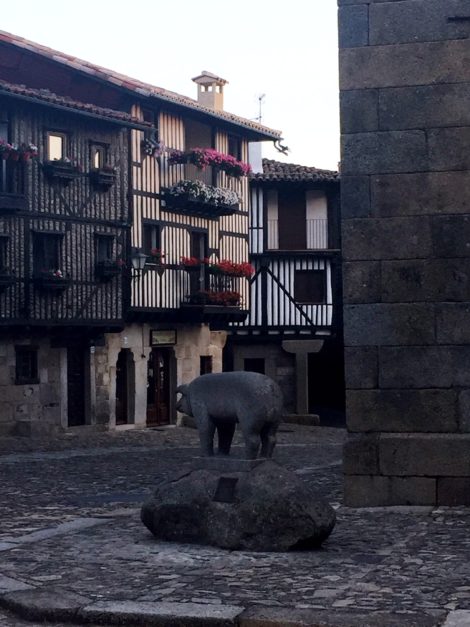 You can search for programs in any region. Try these to start:
Southern Spain: Andalucia, Catalunya, Murcia
Northern Spain: Basque Country (Paisvasco in Spanish), Asturias, Galicia
These aren't the only regions in Spain but they are my favorite regions in the North and South.
Advantages of studying in a small village
Keep in mind that more people will have a high level of English in big cities and fewer in small villages. Many beginners find it difficult to practice their Spanish in cities like Madrid or Barcelona because  most strangers aren't going to take the time to be patient with you and help you learn-they will instead speak to you in English if they know it (and often will try to take the opportunity to practice their English with you). In small villages you will simply have to struggle through and get by on what Spanish you have, which forces you to learn more quickly. Plus you get to take a trip back in time and experience a way of life in Spain that has evolved/modernized/been globalized much less quickly than in big cities.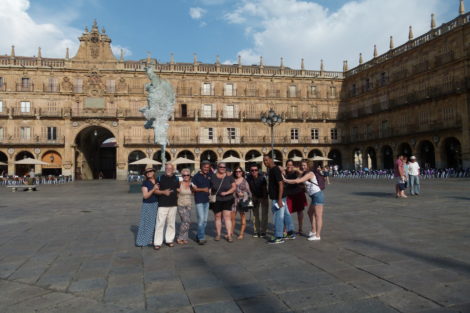 Advantages of studying in a major city
In big cities you have the advantage of meeting lots of others Spanish students, travelers and foreigners as well as locals of all ages (small villages tend to have an older population). And, of course cities provide a myriad of options when it comes to cultural and social activities and are easier to get into/out of if you have a more limited amount of time.
Depending on whether you are traveling solo or with a friend/partner, some of these options may be more appealing than others.
Questions/Comments?
Are you looking for a Spanish language program in Spain? Do you need any help getting pointed in the right direction? Or have any more questions about any of the programs I've mentioned here (and have experienced personally)?
Please feel free to send me a message: adifferentkindoftravel@gmail.com
Hasta luego y espero que tu viaje de Español esté muy bien!
Brooke