I've always been enchanted with England.  First, with the images conjured up within the pages of my favorite childhood books, The Chronicles of Narnia, The Secret Garden, and The Hobbit, and later with even more fascinating imagery found in classic British literature, on television and in movies.
The idea of wet, green countryside dotted with manors, castles, and thatched roof cottages, tea time and The Royal Family was enchanting to a little American girl growing up in a small, farmer town in the Central Valley of California
Throw in magic, folklore, and legend (C.S. Lewis and Tolkien) and England, for me, has always been the stuff of imagination.
After a lifetime of dreaming about the country, and the different places I wanted to visit, it was surprising to find that when I finally ended up there, it actually lived up to my expectations.
Walking around London, Oxford, and Windsor and through the historic universities and castles… ducking into pubs and eating the occasional greasy English breakfast or grabbing a pint of ale. Romantic.
Hearing all of the accents that had been dotted throughout the movies and television series I'd watched in my life…
England for me was just as charming (and rainy) as I had imagined.
But with all of the major attractions and sights that I saw during my first visit to England and London, the best experience was one that hadn't been on any itinerary.  It happened due to a random wrong turn, out in the countryside on the way back to London from Oxford (we had gone completely off the GPS route).
My travel partner and I decided to take some side roads and follow them wherever they went, just for fun. We figured we'd GPS ourselves back on route after a while of getting lost.  And here's what we found…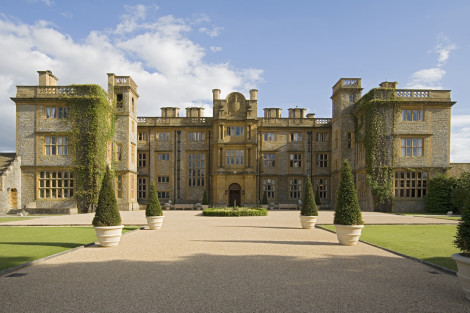 Passing by a set of large looming gates that looked like they led to a private property, I felt a sudden urge to enter. I yelled 'let's see what's down there!' and we stumbled (or rolled along the gravel road in our rental car) up to the lovely Eynsham Hall.
It was just the sort of old building or hall you'd expect to find in 18th century England. Somewhere the Lords and Ladies of Downton Abbey would surely be quite comfortable.
We assumed, since it was already 8pm, that we'd most likely missed any opportunity to visit or tour the Hall. And then… we saw it. The sign.  It said…
'Bar Open'
We couldn't believe our luck. There was a bar in this enchanting old English Hall!
We entered to find the inside as lovely as the outside, with brocade tapestry drapes, old antique sofas, and shelves of dusty books. Walking through a few rooms full of such furnishings, led us to an elegant, yet cozy modern bar with a roaring fire (roaring fire not pictured, because the photo I took was fuzzy so the property sent me this one).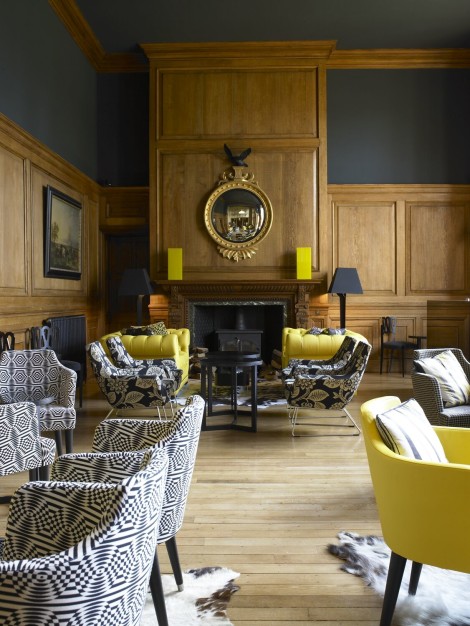 Drinks were being served in posh bar-ware and the barmen, of course, were dressed for the occasion in suits and bow ties.
We took our first glasses of wine out to the decking to catch the still sinking sun as it set over the gardens and clinked our glasses to our luck in stumbling across such a gorgeous end of day drinking spot.
A few more drinks followed (though we moved inside due to the returning rain) and we took advantage of the free reign guests seemed to have of the entire building, poking into libraries, dining rooms, and extremely posh bathrooms.
The Hall had been booked out for a wedding the next day, so as we were getting ready to leave it was being flooded with dressed-to-the-hilt Londoners who were headed straight for the bar.
I loved the ambiance of this spot so much, I even tried to snag a room for the night (because…it gets better.. they have rooms!) but we were out of luck as the hotel was fully booked by wedding guests. Ce la vie!
We left Eynsham Hall, completely satisfied with our day out in Oxfordshire, and made a promise that if we ever plan to be back in the area, we'd book a room ahead of time in this magical place (they sometimes have rates as affordable as 78 pounds a night!).
It's often the surprises that end up being the best parts of a trip and Eynsham Hall was that, for me, in Oxfordshire.