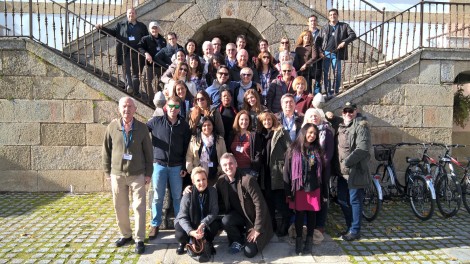 For Travel Info from area experts and other travelers: 
Fodors: for awesome travel threads full of posts by savvy travelers who can give you the scoop on almost any location in the world.  You can either search to find a previous post on the subject or post a question/start a thread of your own to get specific information tailored to you (your style of travel, your preferences, etc). WAY better than reading guide books! I have been using this site to get tips from locals and long term travelers for over 10 years now and I've gotten so much out of it.
For Socializing and Touring (or other unique activities) with locals:
Withlocals.com this site connects you with locals who can show you around their city, from unique varied perspectives. Take a city walk, a tour of nearby wineries, or a hiking trip. Plug in your city and see who's there and what they are offering.
Viator: connects you with local expert tour guides. A bit more official than the other sites I've listed here under this heading, Viator promotes only officially certified tour guides (though most are individuals that aren't part of larger companies and are more entrepreneurial in spirit). There are options ranging from specifically focused tours (architecture, art, museum, food, wine, etc) to more unique offerings like doing a photo-shoot in Cinque Terre with a professional local photographer (I was sooo tempted to do this one!).
Meetup I knew Meetup.com was huge in the U.S but it turns out it's now gone seriously global. More and more meetup groups pop up in European cities every day. Just like in the U.S, this is a great way to connect with people who have similar interests, in a place where you might not know many people yet. From language exchange groups (very popular), to artist and writer and hiker's groups, Meetup has got something for almost everyone.
It hasn't gotten quite as big here yet as it is in the U.S so it can be difficult to find much going on in smaller cities sometimes. But, for the biggest cities, it's a great place to look if you want to meet up with people & do some local activities that are better with more than a party of one.
For Sharing Meals/Dining With Locals:
Vizeat From the most current information I can gather, Vizeat is the site that boasts the most hosts and is in the most countries. It's not a surprise then, that they have teamed up with giants like Airbnb for global events.
Bookalokal Is represented in a good number of countries, but mostly in major cities (like most of these other sites right now) and with fewer hosts. Has a wide variety of food based activities (not limited to dinners or in-home experiences) from casual and quirky to fine dining. Click the link here and get $10 credit towards your first meal.
EatWith Seems to have the highest standards as far for hosts and chefs. Applicants are vetted and not only required to send photos of their food and their home, but to interview and to provide a demo meal in order to be accepted.
For Connecting With Your New Community as an Expat:
If you've made the move and gone international, it's important to find people to connect with in your new city. The fastest way to do this is to connect with an Expat organization in your city. Here are the two most prominent organizations (my favorite is Internations) I've found in Europe.
Internations.org: You can have your whole month booked with networking events, dinner or theater clubs, pub language exchange meetups, professionally focused groups and more as an Internations member. The forums on the website are also invaluable also. Get all your important questions answered by those who have been there/done that/been traumatized by the system. Save yourself time and headaches.
Expat.com: Great site for finding articles about all of the issues expats face in different countries, home listings (for sale and for rent), forums where people buy/sell and also for connecting with other professional expats. I don't like it as much as Internations for social reasons but it's got a lot of valuable information (though you won't be able to read most of it without becoming a member)