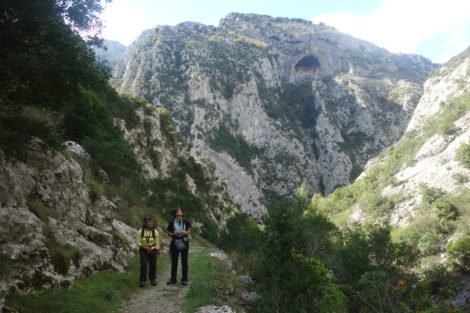 What… and where is Asturias?
Asturias is a region in Northern Spain nestled between Galicia and Cantabria with Galicia to the East and Cantabria to the West. Unlike dry, warm and Arabic influenced Southern Spain in the Northern Regions of Asturias and Galicia you will find wet, green, verdant land and a Celtic influence most easily seen in the traditional music (bagpipes) and the lingering remnants of Celtic civilization.
Why Visit Asturias?
So many reasons! The Picos de Europa. The stunning coastline, phenomenal seafood and charming fishing villages. The historic cave paintings (Altamira to name the most famous).
The ability to experience a part of Spain almost untouched by international tourism and where, in small villages, you'll see life being lived much as it was in long ago. People harvesting their own apples to make cider at home, raising their own animals to eat, making cheeses and trading for anything they don't have that their neighbor does.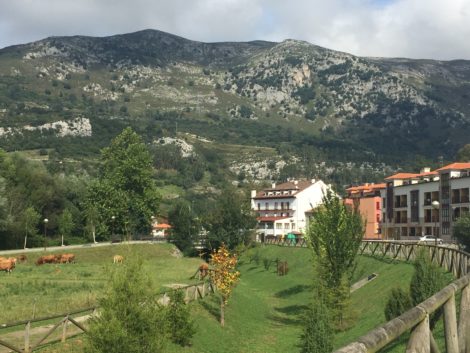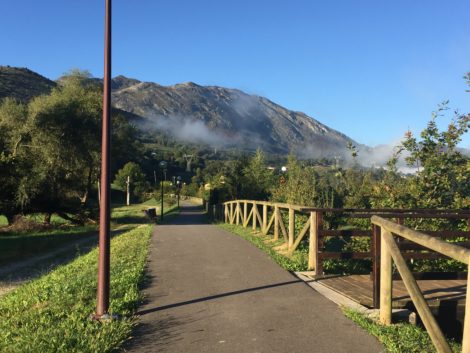 My experience with a Spanish/Hiking course in Asturias
I wanted to combine taking a Spanish course with some fun outdoor activity like hiking (always my first choice!). I also really had been wanting to visit Asturias (I'm a sucker for lush, green, coastal regions).
You can imagine that a super specific Google search like Spanish immersion + hiking + Asturias doesn't wield many results (though if you did this search in Andalucia you'd have dozens or more!). So I found Peak Me language school pretty easily as it popped up on the top of my list and was the only results that fit my search terms.
After a look at some of the photos of the beautiful mountain hikes they take students on and googling the village they were in I was sold. This was exactly what I was looking for.
There were options for different types of experiences, all combining Spanish courses with activities such as hiking the Camino de Santiago, hiking + pilates, hiking, or yoga + pilates. I opted for a hiking and Spanish option with one day of yoga-pilates thrown because I figured it would be a good idea to spend a day loosening up my muscles and stretching out my body after a lot of hiking (especially since I'm super out of shape since moving to Madrid!)
How the days at Peak Me were scheduled:
10-2pm Spanish courses
break for lunch (depending on which accommodation option you chose you can either go out to lunch somewhere or cook in your own apartment)
3-4 hours of hiking or yoga-pilates
On Friday you will have your afternoon free after class (no scheduled activities)
I opted for an apartment versus a hotel (as I always do since I love cooking for myself and I work remotely so I still have to carry some work with me even while traveling). From the front door of my apartment building it was a 3 minute walk to the Peak me school and I had this view from my balcony to enjoy every day: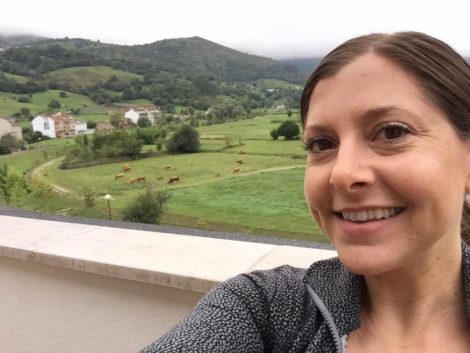 What was great about this experience?
Everything.
From staying in a tiny, peaceful, mountain village surrounded by panoramic mountain views to the amazing coastal and mountain hiking experiences and the comfort of having my own apartment a few minutes from the Spanish school this was a great way to spend a week.
I got to work on my Spanish grammar and improve my vocabulary while also getting out and being active and enjoying fresh air in beautiful scenery and learning about a culturally different area of Spain.
Ana, the owner of Peak Me, was fantastic and picked me up from the train station on the Sunday that I arrived and made sure everything went smoothly during my stay. She is also a local who grew up in Panes (the village where Peak Me is located) and has returned, after many years in the U.K to run this passion based business in her home town, sharing its beauty with the world.
This is a common story in Spain: children coming back home to where their parents live and either taking over the family business or starting their own. And I love it!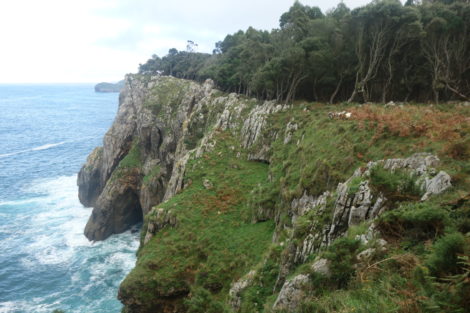 These are the types of businesses I enjoy discovering and getting to know the locals behind. And these are the types of experiences that will provide you with some of the richest experiences and memories in Spain.
If you love hiking and nature and are thinking of trying a Spanish language holiday in Spain, I highly recommend Peak Me.
Want to see a few videos that will transport you to Asturias….?