What and Where is Val do Salnés?
Val do Salnés is known as the birthplace of Albariño and encircles the historic town of Cambados, the capital of Albariño. Located within DO Rias Baixas  (in the Galicia region of Northern Spain) Val do Salnés is one of the five sub-regions within Rias Baixas and the coolest and wettest of the five.  Like the most of Rias Baixas, vines are planted en parra on granite pergolas and high trained (above head height) to help combat wind and humidity issues common in this type of growing climate. And, most vineyards and wineries are growing and producing Albariño, the star of the show in Rias Baixas (a 99% white wine region-with 96% of those grapes being Albariño).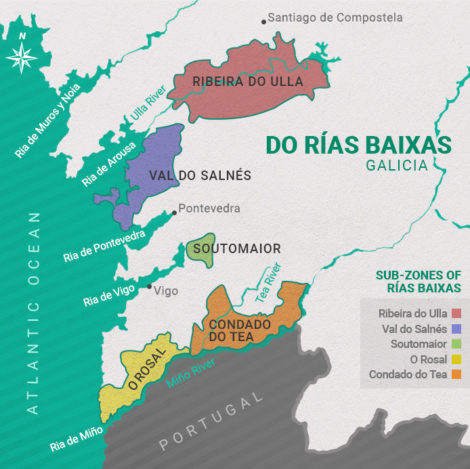 Bodega Granbazan
Located to the Southwest in the Val do Salnés near the town of Villagarcia (where my fiancee is from!) Bodega Granbazan (or Adega in Galician) is a gorgeous third generation family winery tucked away down a road lush with greenery and within grand wrought iron gates.
Jesus Álvarez Otero and his cousin Carolina manage the business that their grandfather, Manuel Otero began back in the mid 60's when he purchased the land that would later hold the Granbazan Estate and vineyards.  Manuel Otero came from the canned seafood industry (and there is nothing more central to the Galician economy than this industry) before he delved into the world of vineyards and winemaking. He had made a few samples batches of wine with neighbors' fruit over the years but decided he wanted to go all the way with his passion project and have his own land and fruit to work with.
The winery is partially underground, and thanks to this as well as the thick stone walls and foundation and the building's North facing position (protected from the sun) maintains a perfectly constant temperature and humidity all year round.
There are two Estate vineyards, one just surrounding and touching the winery, planted in 1980 and another a couple of  miles from the winery that was planted in 2005. They buy a third of the fruit that they use in their wine production but use the purchased fruit mostly for their second brand, Contrapunto.
The Wines and Winemaking Style
Their wines are special. Crafted elegantly and with so much care taken to preserve freshness and acidity but without creating razor sharp antiseptically clean and lean wines (somewhat common with fruit that can soar high in acidity but sometimes not develop riper and fuller character due to weather/conditions. The majority of Granbazan's wines are not aged in oak casks. Instead, they focus on extracting maximum flavors from their fruit using cold soak methods and leaving wines to age on the lees for a significant period before bottling.
They focus on getting the most out of their fruit… on expressing the flavors and character of  the grape over oak aging though they do have an oak aged Albariño which is one of their highest level wines and when tasted side by side with their unoaked young Albariño and other wines that have varying levels of lees contact this wine brilliantly shows the differences between the grape when influenced by oak and when not.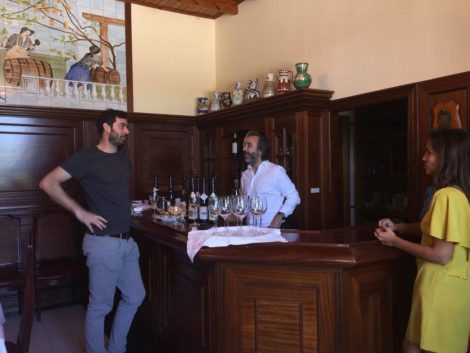 Granbazán Etiqueta Verde
A bright, lean un-oaked Albariño perfect for a sunny day, aperitif wine or simple cold seafood dishes.
Tasting notes (though you don't need to taste or smell what I taste or smell-just drink it and decide for yourselves :)): On the palate you find lime-gooseberry-mineral notes and on the nose bright citrus almost lemon zest and stone
Granbazán Etiqueta Ámbar
A slightly more voluptuous (without losing the brilliant acidity) Albariño with a rounder mouth feel great for the main course (especially good with seafood stews or Arroz bogavante or mussels but then I am usually drinking it while eating Galicia food so I may be biased)
Tasting notes: On the nose you'll get notes of key lime pie, peaches and slate (o.k yes we can just say stone fruit :))
Technical notes: 35 year old vines are used for this wine (from the first planted family vineyard connected to the winery). It goes through a cold maceration for must extraction first (to extract flavors) and then an approx five week cold fermentation in tank after which it remains there on the lees for a five month minimum period.
Granbazán D. Álvaro de Bazán 
Even more mouth coating and concentrated flavors thanks to additional aging/time on lees as well as carefully selected fruit from the lowest producing vines. This wine is only made during the best years and come from oldest vines on the Estate, that get the highest amount of sun.
Tasting notes: Full bodied and concentrated with peaches,white floral notes and a long finish on the palate and citrus, floral, apples/pears and mineral aromas.
Technical notes: Long cold fermenation followed by 12+ months of lees aging in tank and then more time in the bottle before release.
Granbazán Limousin –
This Granbazán's only oak aged Albariño and is therefore a bit toastier than their other wines but the oak is subtle and adds new layers of complexity while still maintaining a very good balance between the aging vessel, the ripeness of the fruit and the acidity. The fruit comes from the highest vineyards (and some of the lowest yielding vines) on the Estate.
Tasting notes: Floral and stone fruit nose with a touch of vanilla bean and smoke. Dry, less overtly fruity and medium body on the palate. Lemon curd on toast with specks of ground vanilla pod come to mind………
Technical notes: This wine undergoes longer than average cold maceration (and dry ice is applied to prevent oxidization) followed by a longer than average cold fermentation (approx 5 weeks) before being put (with some of the fine lees) into standard and double size (500 litres) French oak barrels (most used 1-2 times before but with a small percentage new). The wine sees some light bâtonnage and ages in barrels six months before going to bottle and spending another six months in bottle before being released for sale.
Jesus and Carolina, being Galician locals through and through, are heavily involved in the local wine industry and their community. Carolina works with the Ruta de vino Rias Baixas on behalf of the winery and Jesus is on the board of the DO Rias Baixas appellation of origin.
Being greeted by them at their winery and then touring the vineyards with Carolina and tasting through all of the wines with Jesus felt like visiting a friend's home….and really I guess this is pretty close to true. They've both grown up around the winery and its an integral part of their lives on so many levels.
If you have the chance to visit the Rias Baixas region I highly recommend making sure that the Val do Salnés and Bodega Granbazan are on your itinerary.
Winery Address/Directions:
Lugar de Tremoedo, 46. 36628
Vilanova de Arousa (Pontevedra) España
Link to Google Map directions from Pontevedra
Phone: +(34) 986 555 562
Email: jesus@agrodebazan.com
Where to Stay
Both Cambados and Pontevedra are great bases for exploring Rias Baixas wineries. Try a hotel in either city or you can also opt for a casa rural (my favorite option when traveling in Galicia due to charm, rural locations and affordability!).
Here are two great resources for finding casas rurales (that may not be found on other sites) in Galicia: