The Historic Buildings
Jacksonville, Oregon is an old gold rush town. One of the first founded in this area of Southern Oregon (in 1851). And you can still see and feel this history everywhere in the tiny town. From the museum cataloging the journey of the miners and earliest settlers to the historic buildings (originally mining supply stores, feed stores, blacksmith, etc) that now house newer businesses you won't forget you are in a town with a gold mining history. But, the town has been well taken care of and lovingly restored so you get that authentic 'old' towny feel, in a bit more polished package.
Fewer Crowds-Just as Much Appeal
While Jacksonville has a lot of appeal as a place to visit if you've heard of it or been to it, it's not nearly as well known or popular as destinations like Ashland (thanks in large part to it's famous all year Shakespeare Festival), Crater Lake, Coos Bay, Portland etc. This is good news for visitors. Fewer crowds means a more peaceful environment and a slower pace vibe. After all, isn't that why people travel to small towns?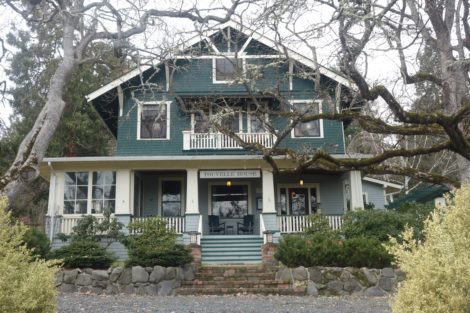 This historic B&B is a reason to stop in Jacksonville all on it's own. Just a couple of blocks from downtown, the luxuriously furnished yet simply classic Touvelle House will charm you with it's crackling fires, beautiful plush common rooms, heavenly beds (with fantastic linens) and home cooked breakfasts (complete with fresh scones and hot egg dishes). If you have to leave earlier than the scheduled breakfast time there's even a special menu you can choose from 'to go' with items like quinoa bowls, granola and yogurt or smoothies (your choice of a large selections of healthy ingredients).
Owners Shawn and Jamie have only owned the B&B for a few years but Jamie grew up in the area and it's clear these two are passionate about Touvelle House and keeping guests as comfortable as possible. The little additional touches they've added such as kindle readers stocked with The Oregonian (local paper), a bevvy of Oregon magazines stacked on every side table, a constantly crackling fire, comfy and plush lounge rooms with books, dvds and games make this place feel like a (much nicer) home away from home.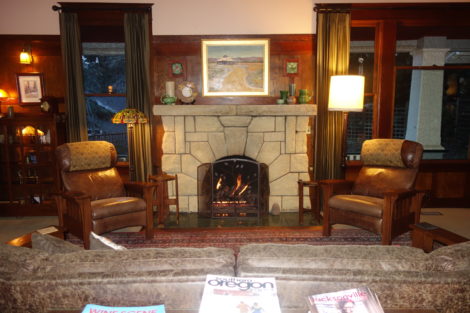 Jacksonville is the location of the now famed Britt Music and Arts Festival (named after Peter Britt one of the first miners to find gold in Jacksonville), a concert/series of shows that runs every year from June through August in an outdoor ampitheater surrounded by trees (though there's also a pavilion that has been built).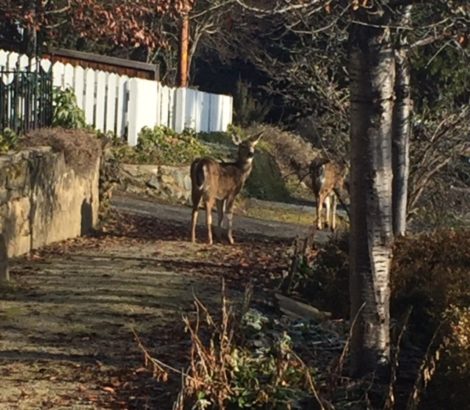 The Friendly and Plentiful Deer

You will see dainty little spotted dear prancing around pretty much everywhere in Jacksonville. There are as many deer as there are people! They are regular morning fixtures in the front yards of most houses (nibbling on this plant or that plant) and are not as skittish as the deers where I come from (Northern California). They won't run away if you approach them slowly and quietly. And, they all look like Bambi.. Always a nice way to start off the morning.
* I was  guest of Touvelle House for this trip but as always, all opinions expressed here are 100% honest and my own.