Archives for September 2016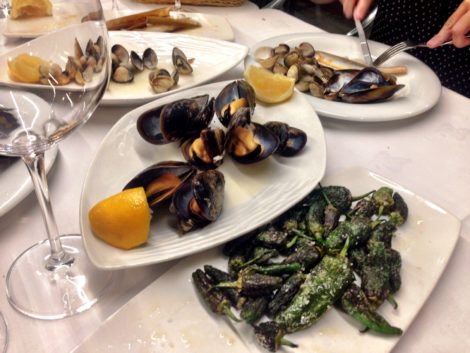 When we arrived late Friday evening into Santiago de Compostela …
The morning after:
The next morning in Sanxenxo we opted to sleep in til late morning, and then congregate at the nearby Cafe California for cafe con leches, breakfast bocadillos and pan con tomate (toasted baguette with tomato sauce and olive oil). At about 11 we headed to our appointment at DO Ferreiro, a nearby Rias Baixas albariño vineyard (Rias Baixas is the classified growing region or wine appellation in Southern Galicia).
Bodega DO Ferreiro/Gerardo Mendez:
Arriving to the stone house and small estate lined with rows of parra trained vineyards (a way of training the vines high on wire trellises anchored by granite posts creating a sort of canopy that helps air flow, prevents mildew and ensures even ripening) we noticed how quickly the morning had warmed up. A day that had started out misty, cool and cloudy had turned suddenly and brilliantly sunny and warm. Just a demonstration of the unique conditions that make Rias Baixas, with its high rainfall and cool temperatures mixed with salt air and sun, so special.
While stopping for photos in front of the old stone buildings, we were greeted by Manuel (Gerardo's son) Mendez.  After introductions he took us straight into the cellar for a little barrel/aging talk and some relief from the sun before walking out into (and underneath) their Albariño vines.
Like most vineyards in the white grape dominated Rias Baixas appellation, the Mendez Family grow only Albariño grapes. And, since we were visiting just before harvest season, the grapes we tasted were full of bracing acidity and bright fresh stone fruit flavors, but they still hadn't reached full phenolic ripeness. Harvest will be in 2-3 weeks when the fruitiness and lush ripeness matches the racy acidity and the pips and stalks (the innards of the grape) are nice and dry and crunchy and brown (no green left).
After telling us a bit about his family history (he is only the third generation in his family to be in the wine business as Rias Baixas has not been a classified growing region very long) Manuel took us into the stone house for tasting.  We tasted the two wines that he and his father make (under the DO Ferreiro label), with us. The first, their classic un-oaked Albariño, was their main product making up 90% of the wine that they produce and sell. The second, was their oak barrel aged Albariño (9 months in neutral French oak). This is a wine that they produce only about 100 cases of (sold within Spain) and of which they had none left to sell at the time we were there.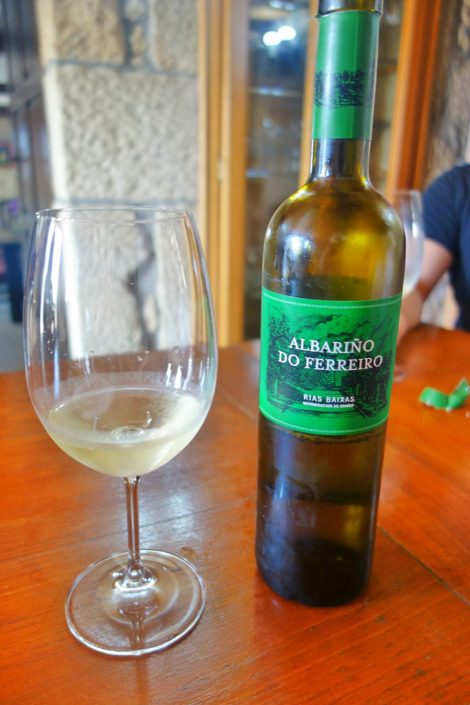 Both wines were delicious, high in acidity but well rounded and complex enough to hold up to heavier and meatier seafoods like the rich pulpo, mejillones, fried sardines, or heavy seafood rice stews so typically eaten in Galicia. The oaked version was, as expected, the more complex of the two and clearly would be fine with a few more years of age while the younger un-oaked Albariño had, like most other un-oaked wines in the region (which are the majority) been made to drink more immediately and while as fresh as possible.
We took three bottles with us to drink over the rest of the weekend, and got a list from Manuel of the shops in Madrid that sell his wine before getting on the road to our next tasting appointment.
Bodega Santiago Roma: 
We drove only 10 minutes or so from DO Ferreiro before reaching Bodega Santiago Roma, where we were ushered in by Señor Roma as opened the gate for us. He had been expecting us, and launched quite quickly into the story of his vineyards, family (he's the third generation in his family to run the business) and international business (he is exported into the U.S but as of yet only to the East Coast).
Santiago's facility was much larger, as well as more technologically advanced than DO Ferreiro and it was clear that he places a strong focus on business growth and export (most vineyards need to export at least something but how much they export, and to how many countries varies by size).
After a walk through the cellar we were again, ushered out to walk underneath the canopy of vines that surrounded the winery, as Santiago told us more about his philosophy and his appellation. His pride in his appellation was clear. He told us that his wines are, most importantly, Rias Baixas Albariño.  The Baixas appellation, to him, is the absolute best for the grape, and produces Albariños that have flavors and qualities unique to this appellation and no other. The incredible proximity to the ocean and the heavy influence of the salinity in the air in addition to the moist climate year round and the granite rich soil create a terroir that cannot be repeated elsewhere.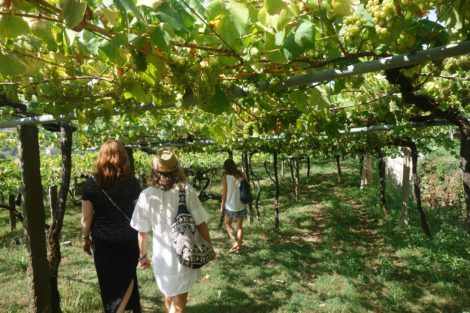 His passion for his livelihood was clear, but so was his business savvy. Santiago showed us his new label designs (designed for international markets) and proudly listed the many countries in Europe to which his wines are exported. They are also currently exported to the U.S, though only to the East Coast currently.
He said that though he has a son, he doesn't know if he'll end up in the business of wine, since he would like him to go to university and of course, these days, making a living just off of the land (especially for multiple generations at once), is challenging.
After tasting his three wines with him back inside the winery, our group's overwhelming favorite was his old vine (which has a black label) Albariño. We took a magnum of it home with us to pair with our mejillones that evening (mussels)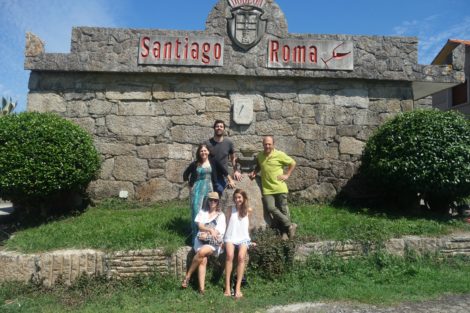 After stopping for a quick lunch of pulpo, fried sardines and more wine we walked to the local fisherman's market in Sanxenxo to collect our mussels and clams for dinner that evening and then all disappeared for a much needed siesta.
Dinner was a classically Galician affair: nothing but fresh seafood (mussels and clams cooked in a big pot without water so they can steam themselves), bread, a simply dressed salad, and Albariño. After which, we went out for another night in Sanxenxo.
The next day was our last, and suffice to say, no one got up very early in the morning ('morning' being noon in Sanxenxo). We spent the day luxuriating in our lack of plans on the beach, had a long and late lunch with plenty of wine and then headed to the airport for our flight back to Madrid.
It was a brief trip, but just what we needed.  An escape from the wilting heat in Madrid (which seems 10x hotter due to the huge looming buildings and heavy air), some beach time, good wine, and great company.
Northern Spain: Galicia
I recently spent a couple of weeks (separately) in the Galicia region of Spain. This is a region that has been calling to me for some time. Ever since hearing it described by a young woman I was tutoring in an English immersion program in Spain, who was from the area. She described it as a green, wet area with beautiful coastal views, excellent locally produced white wines, and tons of fresh seafood (the region's specialty is pulpo or octopus, grilled and served warm on a wooden platter with paprika).
I am a sucker for all wet, green areas that serve up great seafood and are on the coast.  I've always been a fan of Northern Coasts vs. Southern Coasts. A hike along a windy green grassed cliff above crashing waves and the smell of salt and seafood in the air is my idea of heaven. Throw in a thriving local white wine industry (Rias Baixas region is spectacular for Albariño) and I'm already packing my bags.
Having been in the wine industry for 14 years, I'd drunk my share of Rias Baixas (pronounced Ree-ass Buyshass) Albariños. But I'd never thought about where the region was in relation to the rest of Spain. And how hard it might be to get to from the rest of Spain.
Google doesn't populate results that include Galicia unless you are specifically looking for Galicia (or one of the cities within it) so even during my research on regions of Spain to visit it hadn't really come up. If you aren't already looking to visit a place in Galicia or to do the Camino de Santiago it likely won't come up on your radar.
And this is just what makes this region so magical and such a rarity in 2017.
Galicia is not a hugely touristy region
At least not for Americans or the rest of the world beyond Spain and Portugal and the few random Brits that make their way over (having presumably figured out it's the only coastal area in which they won't fry in too much sun and where everything costs 1/4 what it does in the U.K).
The exception to Galicia's non-status as a must-visit region is, of course, the Camino de Santiago, the famous pilgrimage route that has enjoyed a huge surge in popularity over the past 30 years and sees 10s of thousands of tourists/pilgrims per year. The pilgrimage ends (as it did originally when religious pilgrims sought out to visit the remains of St. James that were rumored to have been buried there) in Santiago de Compostela in Galicia.
This keeps Santiago de Compostela on the map as a major destination (if one is already looking to do the Camino…) and thereby also some neighboring areas through which the Camino runs. But if you veer away from the Camino spots (and those are mainly only crowded in the summer) you'll find a whole different side to Spain. One without the polish of more heavily touristed areas.
A New Type of Spanish Experience
During my recent trip to Sanxenxo and Rias Baixas vineyards, Ribadeo, Rinlo, Cathedral Beach and the Ribeira Sacra areas of Galicia I had an entirely new type of 'Spanish' experience. Not only were the lack of crowds, lack of easy-to-find accommodation and lack of functioning GPS (particularly in Ribeira Sacra) a big change but the fact that I was surrounded by an entirely different language most of the time (unless I was being served-because they could see I wasn't Galician so they'd speak Spanish) made it feel as if I was in a tiny country of it's own.
The Gallego (Galician) language is very similar to Portugese and of course being located so near to the country there are other similarities between the cultures as well. You'll also see more Portuguese tourists in Galicia than any other nationality. Though everyone in Galicia speaks Spanish as well (except a few very old people who have never left Galicia, didn't go to school, and only hear Spanish on television).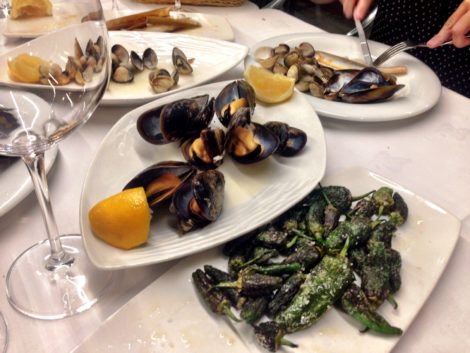 Galician Style
I really like the Galician culture and diet as it's far more my speed than the more popular and well known areas of Spain. Gallegos move a little slower, have a simpler life (and simpler means less technologically advanced very often as well as less commercially focused due to primarily geographic and economic factors) and eat lots of seafood. They also drink more white wine than any other Spaniards I've met.
In Galicia more than 90% of wines produced are white. And therefore, the people drink white wine. It's the norm. This doesn't mean they don't also drink a lot of beer though. It's still the bevvie of choice for most men in Galicia (my bf included) and of course, Estrella Galicia, one of Spain's most popular and largest names in beer, is made in Galicia.
But I'm getting off track….
My first stop in Galicia was a place in Southern Galicia called Sanxenxo. I'll continue this post in Part 2, as it's getting a bit long.