This post is a long time coming. I wrote most of it last summer, when I had just returned to Rouen from a big weekend of sight-seeing, and then lost the post and re-found it recently.  I enjoyed myself so much in Normandy and Brittany, that to be honest, writing about what I was doing, wasn't something I wanted to do in the moment. But now, that I have only the memories left, I want to share a little bit about my time in these unique areas of France, in the hopes that I'll inspire others to visit these stunning regions and that they'll have just as magical an experience as I did.
I was spending a month in Rouen, taking a language course I'd found (after researching mercilessly until finding one that fit my budget). I knew, from years past, that Normandy boasted some of the most affordable programs in France, so I kept coming back to it and eventually found a program there that fit my needs. It had been a goal of mine for years to learn French, and knowing I'd never be able commit to long term regular lessons I figured an immersion in the country might be the best way to gain at least a bit of conversational French.
Though my schedule was quite full with five days a week of language lessons, I knew I wanted to take some time to explore the region of Normandy, and if possible, Brittany at the first opportunity. I'd stopped over in London for a week on the way to Rouen, and had spent the time with a travel partner who said he might be able to come and meet me in France as well, the week after I arrived. He ended up coming, and thanks to this, I had a partner to explore this beautiful area of France with.
Rouen itself is a gorgeous city full of stunning cathedrals and many wonderful museums and restaurants. It is famous for many things, among them the fact that is the city where Joan of Arc was put to death (in the main square) and the city of the cathedrals featured in Monet's series of paintings 'The Rouen Cathedrals'.
However, the best days I spent in Normandy and Brittany were the three days I spent in Etretat, Honfleur, a countryside chateau, and at Mont St. Michel. Our itinerary, in my opinion was the perfect itinerary for seeing some of the most beautiful spots with only a few days of time, and without rushing or trying to check off too many boxes. We had three days and three nights to explore Normandy and Brittany beyond Rouen (where we spent multiple nights and days already) and the Normandy Beaches (which we'd done already on a day trip). We rented a car, as this is the kind of area you must drive around to see pretty much everything worth seeing.
We chose to drive first to Etretat and spend some hours running around the cliffs, picnicking up near the hilltop church, and enjoying the fresh sea breezes, before driving on to Honfleur where we had booked an Airbnb apartment. See photo below of the Honfleur harbor.
Then, we stayed in a Chateau, out in the countryside near Mont St Michel and St Malo, and on a whim without having planned it ahead of time, opted to spend a night ON the famous floating island of Mont St Michel.
The combination made a truly spectacular weekend that I won't easily forget. I saw a whole new side of France. Different food, scenery, and culture. Before this trip, I'd spent my time in Paris, major wine regions (with the winemakers in cellars and tasting rooms), and in Provence (with a base in Avignon). After this trip, I can say I love France even more.
There is so much to see and do in this country. So many regions that are unique and diverse.  Beyond places like Paris (not my favorite-I know I'm crazy), Nice, and Provence there are areas that feel like a completely different country.
Normandy and Brittany have food and drink traditions all their own. They don't make wine at all, as cider and calvados (an apple based spirit) reign here.  They are breezy and coastal, green and friendly, yet also often grey and chilly.  They are ruggedly beautiful in that wonderful way that wind-swept cliffy seaside areas always are. There's the sense of the wild, and the calm. The wind and rain, yet the slower pace of life and more easy and friendly manner of the locals (who aren't as bombarded by tourists from every country in the world as regularly as Paris or the South of France).
Add to this the lack of crowds, compared to other areas near bigger cities (partially due to the expanse of the area and the lack of major transport hubs), and the far more casual dress (and even dining style) and these regions for me, created the perfect 'French' experience.
Where do I start….
Sometime pictures are worth a thousand words. Perhaps that's the case with Etretat and Honfluer. But then again, my photos can hardly do these places justice.
Let's start with what struck me most about these places at first sight:
Etretat: cliffs overlooking the ocean, gravel paths and stairs and churches perched on top of cliffs overlooking it all. small beaches, and mellow water. Creperies and seafood restaurants everywhere. Typical 'Brittany' style building. Tiny town. We caught the Tour de France whizzing through the day we were there. Gorgeous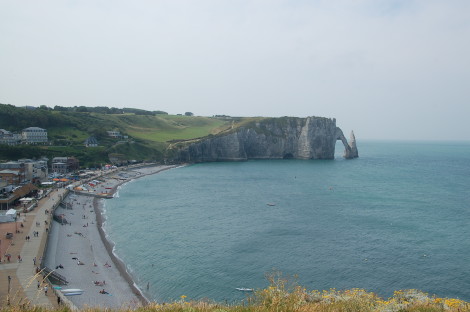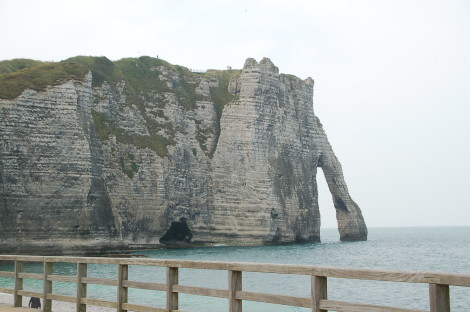 Honfleur (photo at top of this post): sailboats sitting on dark turquoise water. Serene harbour. Old school French type buildings and businesses everywhere. Calvados tasting. Our adorable apartment full of light and nice linens and overlooking a garden, and up a tiny street. Outoors markets that had the best selection of cheeses, ciders, olives, breads, and charcuteries. Picturesque cafes. Thunder storms. Small town feel. Patisseries and boulangeries displaying gorgeous pastries. Didn't want to leave.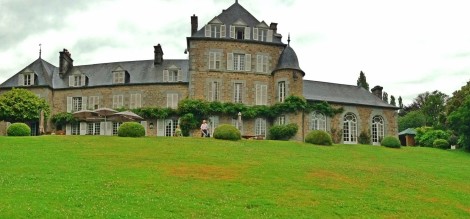 The Chateau Ramatiere: out in the middle of nowhere. GPS wasn't great. Not near anything else. through private gates… and then a green oasis. only 30 min from Mont St Michel.. we got the last room available, which happened to also be the largest. A suite, at the very top of the Chateau on the third floor in it's own wing. We paid about 120 Euros for the suite which had a huge and beautiful open bathroom with excellent shower, and a large sitting room as well as Master size bedroom.  We spent a lovely night here, drinking a bottle of Calvados (made just down the road) that we purchased from the owner and feeling like a Queen and King in our castle.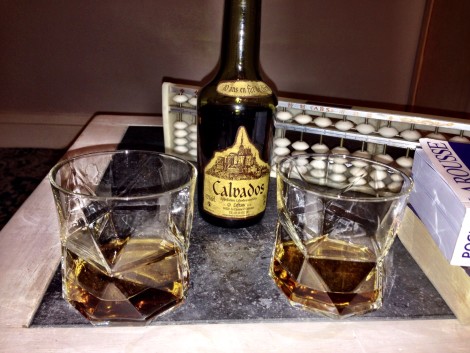 Mont St. Michel: 
We dragged getting ready to leave our lovely Chateau, but eventually ended up heading off to Mont St Michel around noon. We found the crowds to be stifling, and had the genius idea of grabbing a room in one of the hotels ON the island so that we could come back and have the place to ourselves that night (in June/July it's light out until after 11pm!). Best. Idea. Ever. This floating island is beautiful during the day and the night, but during the day, and up until dinner time, there are so many people crowded into the narrow little streets you can barely move above a snail's pace. People shuffle along behind one another, brushing up against one another and sweating in the heat that feels hotter once inside the walls of this tiny island. We chose to experience it in a different way.
After grabbing keys to our hotel room (a mere 85 Euros which we thought a steal for staying in such a historic monumental place) we were free to run off to the nearby lovely city of St. Malo to eat crepes and drink cider, and walk along the water until it was time to come back to the island. We returned just in time to get into the famous Abbey at the top of Mont St. Michel (they stop letting people in at 6 and close it at 7) and spent an hour perusing the great halls and gorgeous inner gardens, admiring the grand arches and the view of the bay below from various vantage points.
After dinner, we were able to roam the tiny floating city island bottle of Muscadet in tote, running down every tiny street, up every staircase, and along every rampart oohing and ahhing at everything.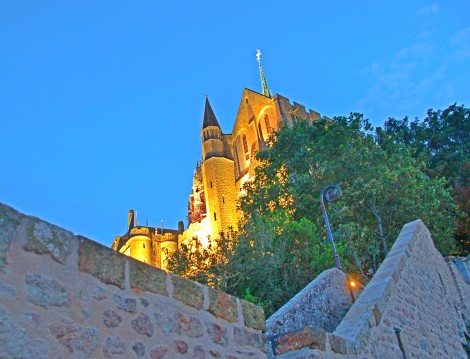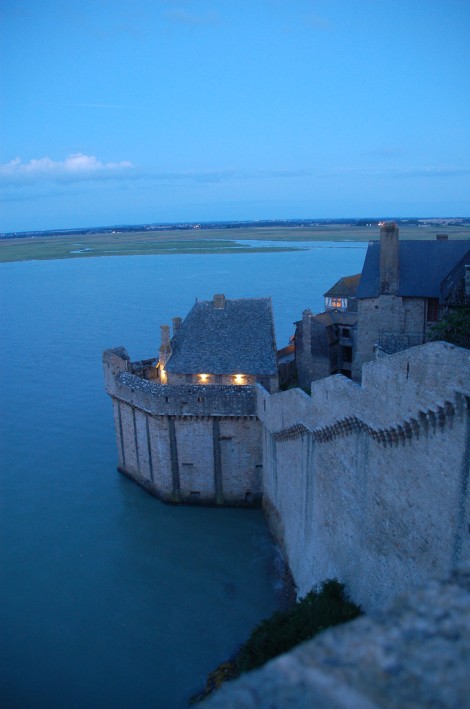 We exhausted ourselves by exploring until 2am and then awoke in the morning to the seagulls cawing outside our window. We were able to take a morning walk with coffee and be in the car and on the road by the time the first crowds of the day arrived.
I can't think of a better way to spend three days in Normandy and Brittany- all in all it was one of my favorite trips in many years. Our choices of accommodation had a lot to do with this. If you are going to any of these places soon-please reach out and I'll be happy to respond with links to the contact info for the places we stayed 🙂
Happy Travels-