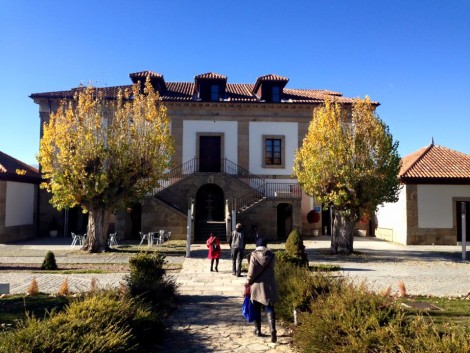 I've talked a bit on here, and on my Twitter profile, about my time as a volunteer in Immersion English programs but this post gives more details, including contact information for the different programs:
Traveling Long Term or Solo in Europe? 
Love Traveling to Europe, staying in nice hotels, eating in restaurants & meeting amazing people? Think you can only afford budget hotels and home cooked meals for one because you're traveling solo? What if I told you how you can have a great week long experience in Spain or Central Europe, and stay at a four star hotel, with your meals included and all it would cost you is the airfare or train-fare to get there?
I've been traveling Europe on and off for the past 16 months since I left my career to re-discover my passion. Because I've been traveling for such a long period, and I'm traveling solo, cost is a huge concern. When I used to take vacations, my budget per week was about 10X what it is now. But those were two week vacations, and I typically was traveling with someone and therefore splitting the costs. I was also getting paid… so the experience and location was far more important than budget (although I always researched to get the best possible accommodation, travel, and experiences for my money).
Even though I'm traveling on a way tighter budget than I ever have previously, I haven't given up the luxuries that are most important to me: staying in nice (safe, well located, good quality and don't have to share a bathroom) places, drinking wine, and going out for coffees (usually somewhere I can sit and people watch or get a lot of work done on my laptop). But I've only been able to maintain the lifestyle that I enjoy, by doing a ton of research and work (literally hours per day) on all the opportunities out there for a long term traveler such as myself, to travel better, and longer, for much less.
Note: I have never stayed in a hostel.
I've found a lot of resources since I've been traveling, and because I've been on the road much longer than a typical vacationer I've been able to hang out and take advantage of opportunities as I find them and as they become available. This is key. If you only have two weeks to one month of vacation there's no way you could figure all this stuff out, try it, and know it works with your limited time.
But fear not! I've done the research for you.
One of the most exciting and least known opportunities I've found, since beginning my journey, is the opportunity to volunteer in Immersion Programs.
My Introduction to 'English Immersion Programs'
A few months ago, I decided on a whim, to apply for a volunteer position in what is called an 'Immersion English Program'. An 'Immersion English Program' is basically a program designed to teach English in an environment where participants are fully immersed in the English language (speaking, listening, and socializing).
I came across a listing on a work exchange site (a site where people exchange volunteer work for acommodation while traveling) that talked about staying for a week for free in a nice hotel, with meals included in exchange for simply conversing in English with a group of professionals. The listing said the volunteer gig was available in Hungary, Romania, or Poland. Well, of course my interest was peaked! Free hotel with meals for simply speaking English with adult professionals? I would already do that anyways, for free!
But, I couldn't get the contact info for the company, on the work exchange site because I wasn't a paid member (and didn't want to be it turned out as the site was geared towards those who want to work on farms and do actual labor in exchange for quite basic accommodation… not for me!).
So, I plugged the details from the listing into good old Google (how many free hotel and meal English volunteer programs could there be in these countries? My guess? Only one) and found the organization's website pretty much immediately.
I submitted an application to Angloville (the organization) and a few weeks later got an email offering me a place in a one week program in Wroclaw, Poland the next month. I asked the company if I could do two weeks in a row since the travel costs were too much to justify otherwise. They said they had a program the week after but it was in a different city (Warsaw) and I'd have to get there myself I said 'no problem!'
Finding More Opportunities..in Spain!
I like my experience so much during my two weeks in Poland with Angloville, that I researched to see whether there were similar programs elsewhere in Europe.
I found two….In Spain!
I immediately applied (through a company called Vaughan) and was accepted for a program a month later.
Since that time I've done two programs in Spain, and have another week long program coming up in Spain this next week. I also volunteered for a last minute volunteer spot in a day time program (one intense 12 hour day where participants come to get a quick and brutal English immersion refresher course) in exchange for which I was offered a night in a posh hotel, a credit for dinner, and a spa treatment.
The three programs with the different companies are structured very similarly but do have some differences worth pointing out:
1) Angloville: Programs are located in Poland, Hungary, and Romania. Volunteers are almost always expected to share rooms. No Alcohol is included with meals.
2) Vaughan Town: Programs are located in Spain. Volunteers get their own rooms. Wine is served with meals. Shorter Term Volunteer Opportunities exist if you're already in the country (1 Day programs for which they offer various incentives to volunteers for their time).
3) Diverbo/Pueblo Ingles: Programs are in located in Spain and Germany. Programs are longer (8 days versus 6). Wine is served with meals.
Of course the style of each program varies as well, but over all, all three of these programs are located out in the middle of nowhere ( you leave from major cities all together on buses), demanding time-wise (12 hours days), and a LOT of fun.
To Sum Up
The total savings for me so far, from volunteering in Immersion programs (when looking at what I've saved on lodging meals, entertainment, etc.) is between $1500-$2500 (how much you save depends on how much you would have spent on other lodging, meals and entertainment).
Plus, I've had the privilege of making a ton of new friends and gaining the valuable experience of hanging out with people from a different country, in an intimate environment and hearing a lot of stories about their country and culture.
Volunteering in Immersion Programs is not something that only long term travelers, like myself, can do. In fact, many people apply for programs months and months in advance and plan their trips and vacations around them. Once you're accepted to a program there are no backsies (on the part of the program anyways). You're in.
How to Get in Touch With These Programs
Visit their pages, using the links I supplied above, and apply at least a few months ahead of when you are interested in volunteering. Each site will show you available dates and locations when you apply.
If you are already in Europe, you can also email the organizers and tell them you're available for last minute openings (people do sometimes back out last minute)and this could mean an opening for you as soon as the next week!)
Try one of these programs out on your next trip to Europe, I'm sure you'll love your experience 🙂
And, if you do end volunteering message me afterwards and let me know how it went!