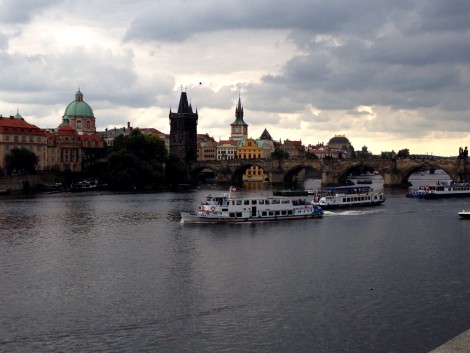 So here I am in Europe, one week after my departure from the U.S.
One week into my new life and quest.
I'm still in a bit of disbelief that I'm here. That I did it.  That I'm sitting here in Europe with only $18000 left in my bank account to live in for a year, and counting on everything to just work out.  That for the first time in my entire life, I don't have a job lined up before the last one has ended. For the first time in my life I don't know what I'll be doing 1 month or 2 months from now, or where I'll be.  Everything in my life right now is open.  The possibilities are vast.
So far my time has consisted largely of planes, trains, metros and jet lag. I just started being able to sleep through the night without waking up at 2am every morning, on my 5th night here (finally caved in and took a sleeping pill).
The past week in summary:
Day 1: Traveled from the U.S to Stockholm, Sweden.
I arrived a day later then I left, at noon (I left at 5pm Monday, arrived 12pm on Tuesday). Having had no sleep on the plane I stayed up as long as I could and walked around my neighborhood in Stockholm, mostly just getting my bearings and trying to get a sense of the city.  The weather was somewhat cold, and very rainy, raining in fits and burst and never stopping for more than an hour or so. I trekked around in my water-proof goretex jacket toting an umbrella and staying semi-dry for 3-4 hours (couldn't avoid the rain soaking my face and shoes), sitting at a few cafes and writing, reading, and doing research on Stockholm.   After a some more walking, near the waterside and past City Hall (very pretty area) I wearily picked up some sushi at the spot downstairs from my Airbnb apartment, ate an early dinner and went to bed.  7pm was the latest I could keep my eyes open.
First impressions of Stockholm: polite calm people, very expensive food and drinks (except, surprisingly, the sushi which was inexpensive and good!), picturesque city with a lovely waterfront, and a good transportation system (although very expensive compared to other European countries I've traveled to).
Day 2 Stockholm: Woke up at 2:30 A.M unable to back to sleep so I start my day. Read a book in bed til 6am (Chris Guillebeau's $100 Startup) then went running in the dark near the water and all the pretty docked boats (many of which serve as restaurants and bars during the evening).  I likely wouldn't have taken this route at dark had I known about the body fished out of the water only a month earlier…. (my Airbnb host filled me in after my run-she actually saw the body floating in the water-yikes!)
After my run, I had a pretty long conversation with my Airbnb hostess Cecilia about wine (weird morning conversation?) and the wine market in Sweden, and then took off with umbrella in tote to visit the Vasa Museum.
I took the metro to museum and spent about two hours there, learning all about the history of the sunken Vasa ship, inspecting the boat itself which was drudged up from the sludge on the floor of the ocean underneath which it lay, hundreds of years after it originally sank and then was painstakingly preserved.
After finishing at the museum, I opted to take a ferry nearby (a daily transport pass includes buses, metros and ferries) to the Slussen stop where there is supposedly an excellent photography museum that houses a cool cafe with awesome views of the city.  Once off the ferry, however, hunger overtook me and I opted for escaping the rain and finding a cozy spot to lunch. I had an unmemorable lunch of 'sausage' that looked more like bologna fried up with potatoes and served with pickled sweet red beets. It sounded a lot better on the menu than it actually was but I found a decent dry Italian white wine by the glass so I enjoyed sitting and sipping my wine while watching the passersby in the rain and reading a book on my kindle.
I meandered around the area near the Slussen ferry stop for a few hours as it was a really cute area with tons of pubs and restaurants and shops and then as extreme fatigue (aka jetlag) overtook me I went back to my Airbnb room for a 3 hour midday nap.  As it was pouring continuously all afternoon and evening I lost motivation to head out much more by foot and instead opted for another early sushi dinner.  Had an excellent dinner of nigiri sushi, green tea, and miso soup for about $11 USD.  Swedish food would have cost twice as much, and, after looked at the options on menus and trying a few things, I decided that if I ever came back to Sweden I'd probably live on a primarily sushi diet.
When I got home from my sushi dinner, Cecilia, my Airbnb hostess was home so we shared a glass of wine and chatted about our different travel experiences, the political and financial state of Sweden and the U.S, and the various benefits and detractors of dating men from different parts of Europe. All together an enjoyable evening of girl talk with a fun, intelligent, and friendly fellow international traveling woman. This is the reason I book Airbnb rooms when traveling solo (well besides the saving money part).  You usually meet someone interesting.
Day 3 Stockholm to Prague: I moved on to Prague, taking a morning flight from Stockholm airport, with a quick stop in the middle to change planes in Copenhagen. I drug my suitcase and carry-on about a mile with some uphill (back is still hurting from this trip!) to the bus station near Cecilia's flat to take the hour long shuttle to the Stockholm airport ($14 for an airport shuttle ride versus about $30-$40 for a cab ride).  My flights were relatively uneventful and smooth, but when I reached Prague, I was informed that my luggage had been left in Copenhagen( I hate broken flights for this reason!). The Prague airport assured me that their delivery service would bring it to me by midnight that evening.  Thankfully I had thought to pack my laptop, a clean pair of underwear, and a toothbrush in my carry-on, so it could have been worse. And, I did indeed get my luggage back by midnight. 11:45 to be exact.  I had to nap to be able to stay up that late and answer the door.
Day 4 Prague: Began to get my bearings in Prague. Scoped out my neighborhood, which is not the prettiest area of Prague and is located about 10 metro stops from the center, but it was all I could book within my price-range (I book full months in order to save a LOT of $) and at least it's located 2 minutes from a metro stop.
Took a run around my neighborhood. Unimpressive.  Many big, ugly, looming Soviet Union era buildings and not much flora or fauna. So I jumped on  a metro to the center of Prague and meandered around near the bridges, soaking up the beauty to take with me.  Found a couple new cafes I made a note to go back to and then headed off home to cook dinner in my new temporary home
Day 5 : I start to warm up to my neighborhood and to the metro system. While I might not live in the prettiest place, I can easily jump on the metro or a tram to go anywhere I want and it's cheap to use ($1 per trip or $27 for the month in USD!). I take some trips to the big shopping center area and pick up some health food and my gluten-free products.  I meet with  my new potential flatmate ( I rented a two bedroom apartment at the same price a studio would have cost me in the center so that I could find another expat looking for temporary furnished housing to share with).  She wants to move in so we agree-we'll be flatmates for the month!
*Quick recap of lodging costs so far on my trip: $45/night for 2 nights in Stockholm.  $730 for a month's stay in my Airbnb in Prague (after taxes and fees). Split 2 ways= just a little over $350 for my rent this month or about $11/night.
Day 6 : I clean house, do laundry, take a 2 mile run through the park, finish my course assignment (creating an ESL classroom activity that appeals to all styles of learners) communicate with a few English schools in Prague and make plans to visit them early the next week and find a new fabulous neighborhood to set my sights on moving to if I end up remaining in Prague (you never know…. ) and hang out there at the pretty cafes.  Nice lunch of farm fresh eggs from local organic farm for eggs Benedict on gluten free toast with arugula, and a cappucino are a  whopping total of $8.  With cooking my own meals for breakfast and dinner, and using my monthly metro pass my average daily budget here is hovering around $15-$20.
Day 7: My new flatmate moves in. She's Romanian, 28, and extremely nice. She works as a buyer for a clothing company.  She's left her home country for the first time, to move abroad for this job, and for the change and the experience. We get along well, it should be a fun month and might even be nice to have the company at home since I don't know that many people here yet.
This evening I  meet up with an Italian woman, who's around my age, and with whom I've been chatting with online through my expatriate organization.  We have dinner, go out for drinks and discuss our life plans. I find out she is from Potenza which is very near where my maternal grandfather was born, but where I have never been.  She looks like my family, small, muscular, and with dark wavy hair and deep set eyes.  We plan to meet up again over the next weekend and maybe catch a ballet or theater if one comes up soon.
After my first week in Europe, I'm feeling comfortable.  I'm feeling that I made the right decision. I'm soaking up the beauty of this stunning city, and meeting new people from around the world.
I'm living my new European life, and it feels like a pretty great fit so far.