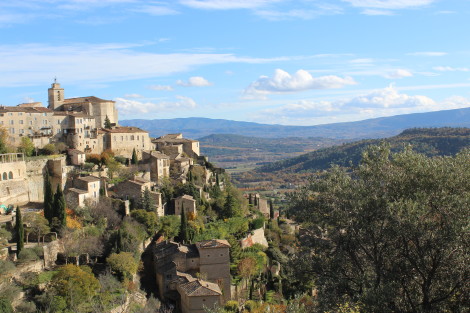 There are a lot of things I miss about Europe when I'm not there (and vice versa of course). I try to appreciate all of the wonderful things about my own country (and state!) and then revel in all of the things I love about other countries when I go back to visit. The more I travel though, the more I miss certain things.
Here is what I look most forward to when I go to France:
1) The excellent cheap wine
Not all cheap table wine is good, even in Europe believe me, but there is an abundance of good cheap table wine in most parts of France and it only takes a little trial and error to stay well supplied with delicious simple wine at every meal. I make a note of every place that has awful table wine (and no good reasonably priced by the glass stuff) and just don' t return there. Unless the food and ambiance (or one or the other) is just so irresistible I can't help it, and then I drink coffee, or a cocktail (subpar coffee and bad liquor are nowhere near as painful to me as a bad glass of wine).
2) The INSANELY good cheese that costs practically nothing compared to in US
Compared to the $26-$40/pound I pay here in the US for the cheeses I like from France and Italy, when I go to a cheese shop in France I can literally walk out with a bag of killer French cheeses (runny, briny, aged… you name it!) for as much as I'd pay for one small round of one of those cheeses at Whole Foods market.  This, my friends, is heaven. Heaven I tell you! Add some super fresh charcuterie (also at a fraction of what it costs here) and you've got a whole damn cheese platter that would feed 6-8 ppl for as much as you'd have paid for 2 back home.  Just a disclaimer: I'm not saying French are the only ones who make amazing cheese, in fact I used to host artisan cheese and wine pairings in Sonoma County and we had some great local artisan cheesemakers but the cost here for an awesome high quality briny, stinky or aged cheese like the ones you get in France, is astronomical.  There are plenty of things that are cheaper in the U.S. but fancy cheese isn't one of 'em.
3) Not Being Able to Understand All of the Conversations Going On Around Me
A big part of 'getting away' for me, is getting to be in an entirely different environment. This means different scenery, different food, and different language.  I don't ever feel like I've truly gotten away until I'm surrounded by people everywhere that don't speak my language. There is something incredibly relaxing about not knowing what the guy behind you in line is saying to his wife, or the people next to you at the Cafe, or all of the kids surrounding you on the bus or train. Even if you know some of a language, you still have to make an effort to actively listen to know what people are saying. It's a luxury to be able to actively listen only when you want to or need to. I like to sit back and let all of the endless chatter roll right on by me while I focus on the scenery, my coffee, my book, or just life in general.
4) The Trains!
How much do I love being able to look at a map, pick a destination within a certain distance and take a train there?! So much. It always thrills me to have such power over where I go in a foreign country without the fear or anxiety of getting lost, getting in an accident with a rental car, parking in tight spots or driving on crazy tiny roads with weird signs and potential laws/driving rules I don't quite understand.  Trains are the way to go for me when I want to visit a new village, town, or city that I only have a day or half day for and I want to just see what I can see without a hassle.  EXTRA BENEFIT: I can have as much wine as I want at lunch AND if I decide I want to stay somewhere longer, I don't have to then figure out how to keep my rental car a day longer and get charged exorbitant fees or pay overnight parking, etc).
5) Striking up Conversations With Other Foreigners on Trains and Planes and Everywhere In Between

One of my favorite parts of traveling is the journey. Not only the journey to get to my larger destination (the flight during which I'm excited to reach my destination and I meet fellow travelers or locals from the area I am traveling to) but also all of the other parts of the trip where I am not actually doing anything on my 'to do' list.  I love getting to know the people next to me on the train, striking up conversations with other solo travelers while dining out or at a cafe, passing the time during delays with others at the airport whom I've just met, and so on.  Some of the coolest moments I've had while traveling to/from/in France have started with my striking up a conversation with a stranger. These conversations have led to drinks, dinners, recommendation of secret local spots, invitation to homes and events, and even to meeting up with some folks later in my trip or back in my own country. There are still a lot of people in the U.S who seem to believe that the  French aren't friendly ( I hear it said disturbingly often).  To them I say 'Au Contraire!' (of course there are unpleasant and pleasant people in every country! I just choose to seek out and remember the pleasant ones)
With my 6 week summer trip to England, Prague, and France (Normandy and Provence) coming up, I'm once again dreaming and reminiscing of past and future trips….
What are the things you most look forward to when you travel?
Brooke