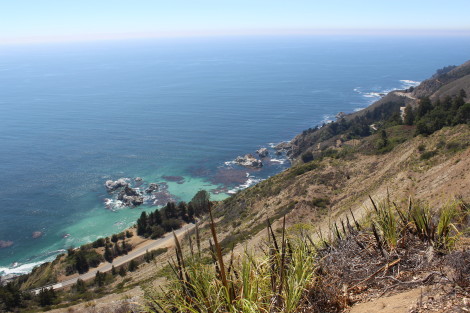 After spending a few days this past week in and around San Luis O' Bispo meeting wineries, I find that I like this area for more than just it's wine culture, vineyard vistas, and familiarity (I feel at home anywhere there are beautiful vineyards, rolling hills and the ocean).
Beyond the vineyard areas, where towns like Paso Robles, Templeton, and Atascadero impress with their surprising high quality restaurants, cafes, and shopping options (for a somewhat remote vineyard area) there are the misty little beach towns out on the coast.  Towns like Morro Bay, that are a mix between old school touristy seafood spots serving clam chowder and fried fish, funky restaurants,  taco shops, cafes and knick knack shops a little further into the center of towns.   All obviously locally owned and exuding that relaxing slow paced coastal vibe.
Then, there are the hiking trails, state parks, and campgrounds. This area is a mecca for outdoors activities. I can't wait to bring my friends and family back to some new spots I've discovered.
On this trip I stayed in Morro Bay for the night in a historic little place called Masterpiece Hotel, which for the price was a bargain. I hit a couple of local cafes in the morning in the search for a decent cappuccino or espresso (and lacking that, a good chai not made from uber sweet syrupy mix) and was sorely disappointed. Coffee isn't Morro Bay's strong suit.  However, I did manage to grab some excellent fish tacos (at the Taco Temple ) for lunch after my walk about town and the beach trails, that thankfully washed the taste of burnt espresso out of my mouth.
That was worth the trip alone.
I also spent a night in San Luis O' Bispo where I found a great wine spot called Foremost that had just opened up downtown and has a killer list of international wines (not a cheap place, but great food and wine), and a pizza spot ( Woodstock's ) with some excellent gluten free chicken artichoke pizza. I even found a spot in the morning that had good cappuccinos, wifi (though it doesn't work well on the back porch) and great ambiance (Linnea's Cafe).
After SLO, I headed back down to Paso Robles for a day and a night.  Winding through the vineyards in the Templeton Gap area and meeting with local wineries in and around Paso, I found (as per usual) excellent sustenance.  Like the al pastor taco place that I hit every time (Los Robles Cafe) I'm in town and the wonderful new cafe I discovered on this trip, Merry Hill where I found the green macha tea latte w almond milk I'd been craving since leaving the Bay Area. The, for dinner I noshed down at the excellent ceviche,  fish taco, and cocktail spot in downtown Paso (Fish Gaucho ) that had a great tequila list.
After this trip, I like Paso even more than I did the last time I visited. Up and coming wine country town, with restaurants that get better and better ever year…what's not to like?
The Central Coast is so much more beyond vineyards and cutesy towns though. It's salty old fisherman's villages, ritzy beach resorts, stretches of highway with beautiful ocean views, college town and hiking trails.
All with much less traffic than any other coastal area of California. My idea of heaven.