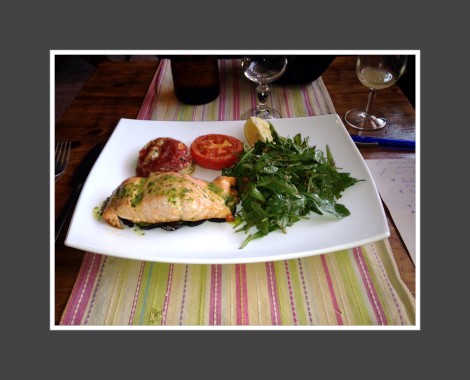 Reminiscing About My Fall travel to Provence….
Leafing through my journal from my recent Provence travel, a perfect day that I spent alone wandering the streets of Avignon, comes to mind.  It was the type of day I need on every trip.  The day where it sets in that I'm free of other responsibilities.  That I don't need to be checking off lists of sights, or traveling to a new city every day to utilize my time well. That my only job is to relax and enjoy the place that I'm in.
It was a sunny winter day, and I started the morning off with a run through the old center of Avignon.  Past the Papal Palace and out of the center, along the Rhone River to the bridge.  Afterwards I hit the big covered market (Les Halles) in the Place Pi to pick up my freshly baked loaf of gluten-free bread and some St. Felicien cheese.  I stopped for multiple coffees, sitting on picturesque sunny plazas while writing in my journal and reading chapters of my book.
A walk down a tiny side street led me past a small unassuming restaurant that had a table free and poached salmon on the plat du jour chalkboard menu.  I sat down and ordered.
Lunch is Served
The salmon was perfectly poached on a bed of crispy grilled eggplant rounds, with a small omelet with cheese and herbs on the side, a pile of fresh arugula perfectly dressed in balsamic, and a roasted tomato ( an assemblage of all the right flavors).  Simple ingredients, perfectly cooked, reasonably priced, with a friendly proprietor and a cozy intimate ambiance.  The typical pichet (small carafe) of wine (Provence Rose) completed the meal for me, which I lingered over for an hour, while enjoying watching the dynamics of Hubert and his local guests, the passing foot traffic, and reading the theater and opera posters he had plastered over every inch of his small restaurant's walls and ceiling.  It was the perfect Provence lunch.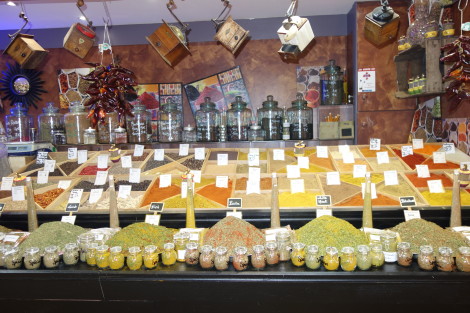 I had had only a few goals for the day when I woke up that morning: taking a run along the Rhone River, doing the obligatory tour of the Palais des Papes, making a reservation at a restaurant for Sebastien and I the next evening, and picking up bread and cheese for dinner.  After stopping by the Michelin starred L'Essentiel to make 8pm reservations for the next night, I felt satisfied enough with my accomplishments to skip the tour of the Palais, which I had been putting off for days.  I've never been a big traditional tour fan.
The Perfect Random End to a Perfectly Relaxing Day
With my unscheduled time, I took a few hours just to walk around in the center on the best streets for shops and do some shopping for a few gifts for Sebastien (mostly kitchen items he needed sorely), to get my laundry washed and hung in his apartment to dry and to take a walk at Sunset to enjoy the lighting over all of the old churches and towers in the center of the city.
A dinner of bread and decadent cheese, with a bottle of Sebastien's Cote-du-Rhone left from the night before was ideal and simple, after my active day, which I enjoyed as I finished reading my book (appropriately 'A Year in Provence' by Peter Mayle).   All in all a perfectly relaxing day.
Of all of the wonderful days I spent in France, and even with the valuable time I got to spend with Sebastien for most of the trip, I truly enjoyed the lack of direction and freedom I had that day on my own. For me, when I'm traveling, it's often the days with no agenda and no actual traveling that end up being the most memorable.